National Assembly of the Republic of Serbia / Activities / Activity details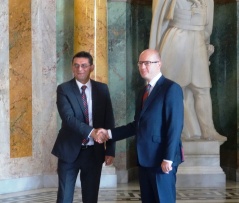 2 September 2015 National Assembly Deputy Speaker Veroljub Arsic and Czech Prime Minister of Bohuslav Sobotka
Wednesday, 2 September 2015
National Assembly Deputy Speaker Veroljub Arsic Meets with Czech Prime Minister
National Assembly Deputy Speaker Veroljub Arsic met today with Czech Prime Minister of Bohuslav Sobotka to discuss the bilateral relations between Serbia and the Czech Republic, Serbia's European integration process, economic cooperation, as well as cooperation in the fields of defence and energy.
---
Deputy Speaker Arsic said that the relations between the two countries are excellent and both sides' are pleased to note that they are following an upward trend. He said that the economic cooperation between Serbia and the Czech Republic, though at satisfactory level, could stand to improve, especially in the spheres of construction, infrastructure, energy and agriculture. He also briefed the Czech Prime Minister on the way Serbia copes with the problem of migrants whose situation it is trying to alleviate and assist, the economic measures employed to consolidate the public debt and public finance, as well as the set of laws aimed at facilitating investors' business dealings in Serbia.
"One proof of the friendly relations between the Serbia and Czech people is the Czech Republic's help to Serbia during last year's floods, as well as the unconditional support in the opening of negotiations for Serbia's EU accession. Considering the two nations' close relationship, I am sure we will achieve our common goals in the international sphere", said Arsic.
Czech Prime Minister of Bohuslav Sobotka said the reason he is visiting Serbia at this moment is threefold – the Czech Republic's support of Serbia's European integration process, support relating to the humanitarian crisis and wave of refugees engulfing the Western Balkans, and promoting the economic potentials, trade and Czech investment into Serbia. He thanked Deputy Speaker Arsic for heading the National Assembly's Parliamentary Friendship Group with the Czech Republic, saying that the parliamentary dimension of the two countries' cooperation is very important. He informed the Serbian delegation about his country's economic growth and the use of European funds for infrastructural projects.
The chairpersons of the Defence and Internal Affairs Committee and the Committee on the Economy, Regional Development, Trade, Tourism and Energy, Marija Obradovic and Aleksandra Tomic respectively, who attended the meeting, informed the Czech delegation about the cooperation in the field of defence and military training, potential exchange of weapons production technologies, and Serbia's achievements in the field of energy production.
---
---
saturday, 23 january
No announcements for selected date