National Assembly of the Republic of Serbia / Activities / Activity details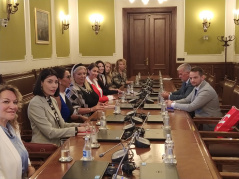 29 June 2021 National Assembly Deputy Speaker Stefan Krkobabic in meeting with the women entrepreneurs
Tuesday, 29 June 2021
National Assembly Deputy Speaker Stefan Krkobabic Meets with Delegation of Serbian Chamber of Commerce Women's Entrepreneurship Section
National Assembly Deputy Speaker Stefan Krkobabic met today at the National Assembly House with a delegation of the Serbian Chamber of Commerce Women's Entrepreneurship Section to discuss how to further improve the legislative framework so as to encourage the development of women's entrepreneurship in Serbia.
---
Deputy Speaker Stefan Krkobabic pointed out that, since its constitution, on 30 August 2020, this, the 12th National Assembly Legislature has passed 126 bills, a significant number of which concern the economy and improvement of business conditions. He stressed that the National Assembly respects the entrepreneurs in Serbia and talking with them is of exceptional importance for the quality of the MPs' work.
Branislava Simanic, Director of the Entrepreneurship Sector within which the Women's Entrepreneurship Section operates, said that this Sector of the Chamber of Commerce is working intensively on promoting entrepreneurship in Serbia, with a special emphasis on women's entrepreneurship.
The Section's objective is networking and promoting best practice examples of women's entrepreneurship, she said. The Section organizes conferences, meetings and free trainings in order to improve the knowledge and skills of women entrepreneurs, to boost their competitiveness on the market, Simanic pointed out.
In the course of the meeting, the host and guests agreed that lack of financial resources is the main obstacle to starting one's own business and furthering women's business ventures, however, Branislava Simanic pointed out, more and more often, women do not enter into entrepreneurship out of necessity, but because they have a good idea and business plan.
The meeting also touched on the important legal solutions that the National Assembly will consider in the coming period, such as the laws on entrepreneurship and bankruptcy of entrepreneurs, which will significantly facilitate the work of entrepreneurs, especially women entrepreneurs.
National Assembly Deputy Speaker Stefan Krkobabic especially emphasised the importance of passing the Law on Social Entrepreneurship, which will be a civilizational step forward for entrepreneurship in Serbia.
MP Haji Milorad Stosic also attended the meeting.
---
---
monday, 25 october
9.00 - sitting of the Committee on the Economy, Regional Development, Trade, Tourism and Energy (National Assembly House, 13 Nikola Pasic Square, hall 2)

9.00 - sitting of the Agriculture, Forestry and Water Management Committee (National Assembly House, 13 Nikola Pasic Square, hall 4)

10.00 - sitting of the Committee on Finance, State Budget and Control of Public Spending (National Assembly House, 13 Nikola Pasic Square, Small Hall)

13.00 - sitting of the Committee on Constitutional and Legislative Issues (National Assembly House, 13 Nikola Pasic Square, hall 1)