National Assembly of the Republic of Serbia / Activities / Activity details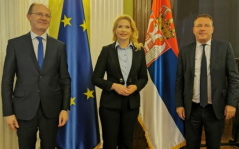 12 October 2022 National Assembly Deputy Speaker Sandra Bozic with member of the European Parliament and its Committee on Foreign Affairs Jean-Lin Lacapelle
Wednesday, 12 October 2022
National Assembly Deputy Speaker Sandra Bozic Meets with Member of the European Parliament
National Assembly Deputy Speaker Sandra Bozic met today at the National Assembly House with Jean-Lin Lacapelle, member of the European Parliament and its Committee on Foreign Affairs.
---
At the beginning of the meeting, Bozic pointed out that the two countries enjoy excellent cooperation at all levels, especially the presidential, as evidenced by the meetings between the two presidents organised in the previous period.
She indicated the possibility of improving economic cooperation, mentioning that Serbia is recognised as a suitable destination for foreign investments. She spoke of the importance of the "Open Balkans" initiative, which has been characterised as an initiative for peace, stability and a better life, contributing to economic development, tourism and exchange of goods between the countries of the Western Balkans, and is also important for the European integration of the countries in the region.
Sandra Bozic said that Serbia's foreign policy goal is full membership in the European Union, underlining that the Serbian leadership advocates for the preservation of our national interests and respect for international law.
The Deputy Speaker briefed the guest on the country's internal politics, focusing on the problem faced by our citizens in Kosovo-Metohija. She emphasised that Serbia is committed to dialogue and peaceful resolution of the open issues, all in line with international law and UN Security Council Resolution 1244.
The officials discussed the challenges the whole of Europe is faced with, with Bozic pointing out that in the circumstances where world peace is under threat, we should be aware that we are all on the same task and that Serbia has clearly decided to respect the basic principles of international law.
MEP Jean-Lin Lacapelle expressed his support for Serbia joining the EU, adding that he would personally endeavour to present to the European Parliament the real situation in Serbia regarding Kosovo-Metohija.
At the end of the conversation, the officials opined that there is room to improve of interparliamentary cooperation through an exchange of visits between MPs.
---
---
sunday, 10 december
No announcements for selected date