National Assembly of the Republic of Serbia / Activities / Activity details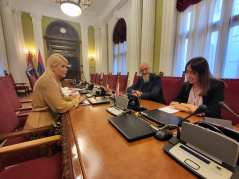 31 August 2022 National Assembly Deputy Speaker Sandra Bozic in meeting with Italian Ambassador to Serbia
Wednesday, 31 August 2022
National Assembly Deputy Speaker Sandra Bozic Meets with Italian Ambassador to Serbia
National Assembly Deputy Speaker Sandra Bozic received the Ambassador of the Republic of Italy to the Republic of Serbia, H.E. Luca Gori in a courtesy visit to discuss the dynamic and close relations between the two countries.
---
Pointing out the well-developed bilateral relations and meetings at the level of parliamentary committees and delegations at the multilateral level, Bozic opined that in addition to parliamentary contacts and the economy, there are other segments where as a society, we can achieve cooperation at an enviable level. Bozic briefed the Ambassador on the National Assembly's mode of operation and the work of the informal Women's Parliamentary Network, which has existed in the Assembly since 2013, emphasising that one of its chief goals was to achieve 40% representation of women as MPs in the former and current legislatures.
Gori thanked the Deputy Speaker for taking the time to have this meeting with him stressing that its goal is to gain a broader picture of the parliamentary atmosphere in the National Assembly. He also mentioned Italy's upcoming parliamentary elections on 25 September, expressing confidence that regardless of the election results, cooperation with the Republic of Serbia would remain at a high level, because, as he said, all the political groups share the same positive attitude towards our country. He added that Italy too has gender equality quotas that must be respected, which he mentioned is one of his tasks as well, alluding to the promotion of gender equality. He went on to say that the Embassy is preparing a project to promote female entrepreneurship in Serbia and numerous cultural events in the coming period.
The officials also discussed the increased costs of energy sources, which will certainly affect trade and the economy, as well as energy diversification, which is a burning issue throughout Europe.
Gori took the opportunity to say that Italy truly admires the constructive attitude and approach of Serbian President Aleksandar Vucic regarding Kosovo-Metohija and the issuance of personal documents, adding that Italy would once again be taking over command of KFOR in Kosovo-Metohija in October of this year. Bozic pointed out that President Vucic is most decisive in the position that peace and stability are the most important thing for Serbia at this moment, stating that dialogue is the only way to reach compromise solutions. She added that the Serbian President had invested great efforts into the last round of dialogue with the Provisional Institutions in Pristina, expressing hope that an agreement would be reached regarding the registration plates, but that the other side is increasingly rejecting any kind of compromise solutions and agreements with Belgrade.
The officials agreed that mutual cooperation could also be realised in the fields of high technology and entrepreneurship, as well as culture since the Italian language is very popular in Serbia.
---
---
wednesday, 4 october
9.00 - sitting of the Committee on Finance, State Budget and Control of Public Spending (National Assembly House, 13 Nikola Pasic Square, hall 2)

10.00 - the National Assembly Speaker meets with the Chinese Ambassador to Serbia (National Assembly House, 13 Nikola Pasic Square, hall 1)

12.00 - sitting of the Culture and Information Committee (National Assembly House, 13 Nikola Pasic Square, hall 4)