National Assembly of the Republic of Serbia / Activities / Activity details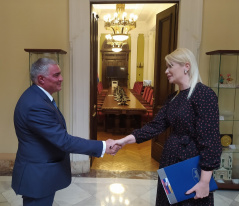 27 September 2022 National Assembly Deputy Speaker and head of the delegation to the OSCE PA Sandra Bozic meets with the non-resident Ambassador of the Republic of Armenia to the Republic of Serbia Ashot Hovakimyan
Tuesday, 27 September 2022
National Assembly Deputy Speaker Sandra Bozic Meets with Armenian Ambassador
National Assembly Deputy Speaker and head of the delegation to the OSCE PA Sandra Bozic met today with the non-resident Ambassador of the Republic of Armenia to the Republic of Serbia Ashot Hovakimyan.
---
The Deputy Speaker expressed satisfaction with the first official meeting, hoping that it would prove significant for deepening the relations between the two countries, which, she opined, have been traditionally good and friendly. Speaking of interparliamentary cooperation, the Deputy Speaker pointed out that the Memorandum of Understanding between the National Assembly of the Republic of Serbia and the National Assembly of the Republic of Armenia, signed in 2020, provides an excellent institutional basis for further improvement of parliamentary cooperation, especially at the level of working bodies and parliamentary friendship groups. Bozic added that the National Assembly has traditionally had a PFG with Armenia which the MPs have been interested in joining and she expected would continue to be in the current legislature as well.
The Deputy Speaker thanked Armenia for its principled stance of non-recognition of the unilaterally declared independence of so-called Kosovo and for contributing with its actions to so-called Kosovo not becoming member of any international organisation. She emphasised that preserving stability in the region is of key interest to Serbia, as evidenced by the Open Balkans initiative, launched by the President of the Republic, which is an example of very successful regional cooperation and fighting for common goals.
Ambassador Hovakimyan was very interested in intensifying cooperation between the two countries at all levels, stressing that interparliamentary cooperation plays an important role in that process. He believes that the cooperation of parliamentary friendship groups, committees and commissions can give good results. The Ambassador stressed that strengthening relations between the two countries is extremely important for Armenia, as evidenced by the ongoing process of town twinning.
The officials agreed that there is a lot of room to improve economic cooperation and that the countries should look into the options for increasing the scope of trade.
---
---
wednesday, 31 may
9.00 - the National Assembly Speaker meets with the National Assembly of the Republic of Slovenia PFG with Serbia (National Assembly House, 13 Nikola Pasic Square, hall 1)

10.00 - continuation of the Third Extraordinary Session of the National Assembly of the Republic of Serbia, 13th Legislature (National Assembly House, 13 Nikola Pasic Square)

11.15 - the members of the Foreign Affairs Committee and the European Integration Committee meet with the PFG of the National Assembly of the Republic of Slovenia (National Assembly House, 13 Nikola Pasic Square, hall 2)

12.00 - the members of the PFG with Slovenia meet with the PFG of the National Assembly of the Republic of Slovenia (National Assembly House, 13 Nikola Pasic Square, hall 2)

12.45 - press conference of the Head of the PFG with Slovenia Milija Miletic and the Head of the PFG of the National Assembly of the Republic of Slovenia Lena Grgurevic (National Assembly House, 13 Nikola Pasic Square, Central Hall)

13.00 - press conference of MP Аleksandar Olenik (National Assembly House, 13 Nikola Pasic Square, Central Hall)