National Assembly of the Republic of Serbia / Activities / Activity details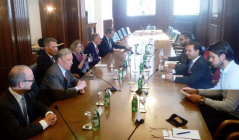 28 March 2019 National Assembly Deputy Speaker Prof. Dr Vladimir Marinkovic and the members of the German Bundestag
Thursday, 28 March 2019
National Assembly Deputy Speaker Prof. Dr Vladimir Marinkovic Receives Group of Bundestag Members
National Assembly Deputy Speaker Prof. Dr Vladimir Marinkovic received today a group of Bundestag Members visiting Serbia.
---
He said to keep improving the political and economic cooperation between the two countries, it is important to talk with all the representatives of political life in Germany. He praised the parliamentary cooperation and the very strong economic cooperation between Serbia and Germany considering that German companies employ over 50 thousand people in Serbia. He informed the German MPs about the results of Serbia's economic reform viz. 4.1% economic growth last year and three billion EUR in foreign investment.
"We are grateful to Germany for helping in the development of the Western Balkans, regional stability and support of Serbia's path to the EU. We continue to move toward our strategic goal – full EU membership, in which we need your assistance", said Marinkovic.
He said that Serbia also needs Germany's support for the continuation of the dialogue with Pristina stalled by the imposition of the 100% customs tariffs on goods from Serbia and Bosnia and Herzegovina, which is a violation of all civilizational values and of what Germany and the EU stand for.
"It is important to continue the dialogue and find a compromise solution which would secure a lasting peace and stability in the region. We hope you will treat Serbia's interest in Kosovo-Metohija with special sensibility, as well as our efforts to keep our citizens safe, as well as our Christian values, churches, culture and property in Kosovo-Metohija", said Marinkovic.
German MP Armin-Paulus Hampel said that, for Germany, Serbia is an important partner in the region and a factor of its stability. Speaking of the Belgrade-Pristina dialogue, he praised the fact that the country has a pragmatic approach to the past and is seeking new paths to the future, adding that the EU integration of the Balkan states without Serbia makes no sense. He also praised Serbian economy's recent results and the level of economic cooperation between the two countries.
Dr Roland Hartwig, Petr Bystron, Nader Amin-Salehi and Matthias Schikorski also took part in the meeting which touched on the state-of-play of the Serbia-EU accession talks, EU current affairs, foreign investment into Serbia and NATO.


---
---