National Assembly of the Republic of Serbia / Activities / Activity details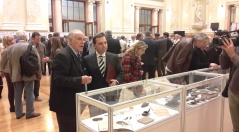 11 October 2017 Deputy Speaker Marinkovic and the Director of the Serbian Geological Institute at the exhibition "Serbian Geology"
Wednesday, 11 October 2017
National Assembly Deputy Speaker Prof. Dr Vladimir Marinkovic Opens Exhibition "Serbian Geology"
The National Assembly House is hosting the exhibition "Serbian Geology" organized by the Serbian Geological Institute to mark the annual EuroGeoSurvey summit in Belgrade, 9-13 October.
---
The exhibition was opened by National Assembly Deputy Speaker Prof. Dr Vladimir Marinkovic who said this collection of Serbian natural resources showcases the results of Serbian geologists' work, one part of which has been valorized, while the rest will remain as a lasting resource for future generations and all the citizens of Serbia.
Marinkovic said that the work of the Serbian Geological Institute and the Faculty of Mining and Geology is extremely important for Serbia's dynamic and speedy integration into the European Union and the harmonization of the national legislation in the field with the EU acquis.
"Serbia will stand by its geologists and try its best to invest more into science and research", said Marinkovic, adding that the National Assembly and the state of Serbia would continue to support the efforts of the Serbian Geological Institute and the Faculty of Mining and Geology.
On the behalf of the organizer the attending were addressed by the Director of the Serbian Geological Institute Prof. Dr Dragoman Rabrenovic who said that the exhibition aims to showcase the Serbian geology's new developmental potential and elevate it to its rightful place. He added that the exhibition is dedicated to the first big step forward for Serbian geology, it provides an overview of the education and training of the relevant human resources and presents the Serbian Geological Institute's ample activities on the drafting of geological, hydro-geological and engineering-geological maps, as well as samples of important ores and minerals as Serbia's biggest natural resources.
Rabrenovic thanked the National Assembly and its Speaker Maja Gojkovic for the reception and support in the realization of the exhibition, under the auspices of this year's EuroGeoSurvey summit.


---
---
Friday, 20 July
11.00 - press conference of the MP Tatjana Macura (National Assembly House, 13 Nikola Pasic Square, Central Hall)