National Assembly of the Republic of Serbia / Activities / Activity details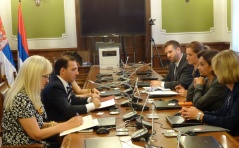 30 July 2015 National Assembly Deputy Speaker Prof. Dr Vladimir Marinkovic and USAID Serbia Mission Director Azza El-Abd
Thursday, 30 July 2015
National Assembly Deputy Speaker Prof. Dr Vladimir Marinkovic Meets with USAID Serbia Director
National Assembly Deputy Speaker Prof. Dr Vladimir Marinkovic met today, at the National Assembly House, with the Director of the USAID Mission to Serbia Azza El-Abd to discuss the future cooperation between the National Assembly and USAID.
---
The officials opined that the existing excellent cooperation between the National Assembly and USAID should be continued with the signing of an agreement and realisation of a concrete programme aimed at boosting the National Assembly's legislative and oversight capacities.

Deputy Speaker Marinkovic thanked the Mission Director for USAID's aid in boosting the capacities of the National Assembly, government organisations and the non-governmental sector in Serbia. He said he believes the USAID projects aimed at improving the business environment in Serbia to be particularly important and proceeded to highlight the cooperation the National Assembly enjoys with the USAID partner organisations NDI and IRI. Marinkovic added that a programme to strengthen the capacities of the Support Service, especially concerning human resource management, and boost the MPs' capacities as regards presenting their work to the public and proposing new legislation would be very useful for the National Assembly.

USAID Serbia Mission Director Azza El-Abd believes the future cooperation between the National Assembly and USAID should be more direct, with a special focus on the National Assembly's needs in specific areas. The USAID office is ready to provide support to strengthen the professional capacities of the Support Service staff, especially those working in the committees, and advisory support to the MPs, parliamentary groups and the Economic Caucus.

The meeting also touched on specific support areas such as improving the National Assembly development strategy, strengthening the control function and project management, as well as cooperation programme deadlines.


---
---
| M | T | W | T | F | S | S |
| --- | --- | --- | --- | --- | --- | --- |
| 27 | 28 | 29 | 30 | 31 | 1 | 2 |
| 3 | 4 | 5 | 6 | 7 | 8 | 9 |
| 10 | 11 | 12 | 13 | 14 | 15 | 16 |
| 17 | 18 | 19 | 20 | 21 | 22 | 23 |
| 24 | 25 | 26 | 27 | 28 | 29 | 30 |
| 31 | 1 | 2 | 3 | 4 | 5 | 6 |
friday, 7 august
No announcements for selected date