National Assembly of the Republic of Serbia / Activities / Activity details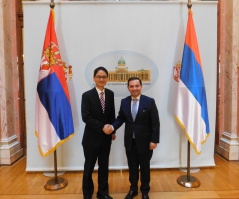 19 February 2019 National Assembly Deputy Speaker Prof. Dr Vladimir Marinkovic and the Ambassador of the Republic of Korea to Serbia
Tuesday, 19 February 2019
National Assembly Deputy Speaker Prof. Dr Vladimir Marinkovic Meets with Korean Ambassador
National Assembly Deputy Speaker Prof. Dr Vladimir Marinkovic met today with the Ambassador of the Republic of Korea Hyoung-chan Choe to discuss advancing political, economic and cultural cooperation between the two countries.
---
Deputy Speaker Marinkovic and Ambassador Choe agreed that this year, marking 30 years of diplomatic relations between Serbia and the Republic of Korea, is the right time to work on fostering closer relations and expand overall cooperation.

Deputy Speaker Marinkovic thanked the Korean Ambassador for his country's stance on AP Kosovo-Metohija stressing that Serbia is ready to continue the dialogue with the Albanian side to come to a sustainable solution to benefit the entire region. He added that coming to an agreement is important for the stability and development of the region as a whole and for Serbia's the strategic goal of joining the EU.
Marinkovic said that Serbia is satisfied with its economic growth and level of direct foreign investment, adding that the country has become a good place to invest, especially into new technologies.
Ambassador Choe thanked the National Assembly Deputy Speaker for his personal engagement on fostering relations between Serbia and the Republic of Korea, and the officials agreed that a visit by the National Assembly Deputy Speaker to the Republic of Korea and participation in the IPU Assembly in Belgrade in October would be an excellent opportunity to advance parliamentary relations between the two states. He also conveyed the Korean Parliamentary Friendship Group with Serbia members' wish to visit their counterparts in Belgrade which would give an additional boost to parliamentary cooperation.


---
---
| M | T | W | T | F | S | S |
| --- | --- | --- | --- | --- | --- | --- |
| 26 | 27 | 28 | 29 | 30 | 31 | 1 |
| 2 | 3 | 4 | 5 | 6 | 7 | 8 |
| 9 | 10 | 11 | 12 | 13 | 14 | 15 |
| 16 | 17 | 18 | 19 | 20 | 21 | 22 |
| 23 | 24 | 25 | 26 | 27 | 28 | 29 |
| 30 | 31 | 1 | 2 | 3 | 4 | 5 |
wednesday, 4 august
No announcements for selected date