National Assembly of the Republic of Serbia / Activities / Activity details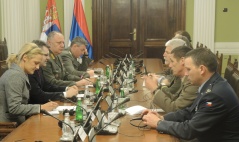 3 March 2016 National Assembly Deputy Speaker MA Igor Becic and the Chairman of the NATO Military Committee
Thursday, 3 March 2016
National Assembly Deputy Speaker MA Igor Becic Receives NATO Military Committee Chairman
National Assembly Deputy Speaker MA Igor Becic met today with the Chairman of the NATO Military Committee, General Petr Pavel, currently in official visit to Serbia.
---
Deputy Speaker Igor Becic said that the National Assembly's delegation to the NATO Parliamentary Assembly (NATO PA) actively contributes to the development of partner relations, declaring the cooperation within NATO good and successful. He informed General Pavel about the delegation's activities, highlighting the cooperation on the realisation of Rose-Roth seminars and the coming visit of the delegation of the NATO PA Committee on the Civil Dimension of Security to Belgrade. Becic also mentioned the development of cooperation between Serbia and NATO within the Partnership for Peace, confirmed by the recent ratification of agreements by the National Assembly.
"As a military neutral country which is not trying to join NATO, we would like to improve our cooperation with NATO within the Partnership for Peace", added Becic.
He emphasised the importance of the role NATO plays in the protection of the Serb community in Kosovo-Metohija, opining that the current security situation in Kosovo does not allow for a decrease in the number of KFOR members. Becic also reminded that Serbia is dedicated to expanding its cooperation with NATO concerning the fight against terrorism and thanked NATO for its help in suppressing the escalation of the migrant crisis.
"Serbia is a reliable partner and there will be ways to improve the cooperation in future, and the Serbian Government is dedicated to being a factor of stability in the region", concluded the National Assembly Deputy Speaker.
The Chairman of the NATO Military Committee, General Petr Pavel said that he appreciates Serbia's dedication to being a factor of stability in the region and to the Partnership for Peace, adding that NATO respects Serbia's decision to be military neutral.
"Serbia is significant in terms of stability in the Western Balkans. Your aspiration to become a member of the European Union is in NATO's interest because we want this region to be stable and prosperous. The keystone of cooperation between Serbia and NATO is their willingness to expand cooperation, with no pressure on Serbia to join NATO", opined Pavel.
Being on the Balkan route, Serbia has been hit by the migrant crisis, which is an issue that should be urgently and jointly addressed by all the countries in the region, EU and NATO. Although NATO has no direct role in addressing this problem, it will support the efforts by supplying better intelligence, supervising the borders, preventing human smuggling and uncontrolled migrations toward the EU, added Pavel.
The officials agreed that the cooperation between the NATO PA and national parliaments aids the development of partnerships, which parliamentary diplomacy is an important segment of.
The meeting between Deputy Speaker Becic and General Pavel was attended by representatives of the NATO Military Committee, the Ministry of Defence and the Army.
---
---
friday, 28 january
13.00 - meeting of the Inter-Party Dialogue Control Body (National Assembly House, 13 Nikola Pasic Square, hall 1)

17.00 - National Assembly Speaker Ivica Dacic meets with Inter-Party Dialogue co-facilitators (National Assembly House, 13 Nikola Pasic Square, hall 1)