National Assembly of the Republic of Serbia / Activities / Activity details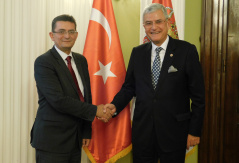 31 October 2018 National Assembly Deputy Speaker Veroljub Arsic and the Chairman of the Turkish Grand National Assembly Committee on Foreign Affairs Volkan Bozkir
Wednesday, 31 October 2018
National Assembly Deputy Speaker Arsic Receives Turkish Grand National Assembly Delegation
National Assembly Deputy Speaker Veroljub Arsic met today at the National Assembly with a delegation of the Committee on Foreign Affairs of the Turkish Grand National Assembly headed by Chairman Volkan Bozkir.
---
Deputy Speaker Arsic emphasized the high-level relations between Serbia and Turkey as evidenced by the recent exchange of visits between their highest dignitaries. He stressed the importance of Turkey for the stability of Balkans and South-East Europe adding that Serbia strives to be the source of stability in the region.

Arsic opined that the economic cooperation between Serbia and Turkey though good still leaves room for additional development, especially as regards trade and mutual investment, which the Chairman of the Committee on Foreign Affairs Volkan Bozkir agreed with.
Bozkir said that Serbia is an important strategic partner to Turkey and the relations and cooperation should be strengthened.
The officials highlighted the importance of the parliamentary dimension of relations and intensive cooperation between parliamentarians as the directly elected representatives of the citizens, sure that an exchange of visits of parliamentary delegations would further intensify cooperation.
They also spoke about the status and protection of the rights of national minorities in Serbia and Turkey, and Arsic informed the members of the Turkish parliamentary delegation about Serbia upcoming elections for national minority council members.


---
---