National Assembly of the Republic of Serbia / Activities / Activity details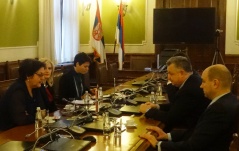 1 December 2015 The National Assembly delegation to OSCE PA and the ODIHR Director
Tuesday, 1 December 2015
National Assembly Delegation to OSCE PA Meets with ODIHR Director
The Head of the National Assembly's delegation to the OSCE PA Dr Dijana Vukomanovic and OSCE PA Third Committee rapporteur, delegation member Gordana Comic met today with Michael Georg Link, Director of the Office for Democratic Institutions and Human Rights (ODIHR).
---
Vukomanovic emphasised the importance of the meeting in the context of the coming meeting of the OSCE Ministerial Council on 3 and 4 December in Belgrade, saying that on the occasion the parliamentarians from OSCE countries will come together for an OSCE Parliamentary Assembly Bureau meeting on 2 December 2015, the eve of the Ministerial conference. Vukomanovic highlighted the importance of the parliamentary dimension of OSCE stressing that the parliamentarians of all 57 of the member states greatly contribute to the democratic dialogue process and resolving all the current challenges in Europe and the OSCE region.

Michael Georg Link commended Serbia's efficiency, responsibility and professionalism during its chairmanship year, especially in view of the big challenges it faced in the course of it, as well as Serbia's constructive approach to the current migrant crisis.

As rapporteur of the OSCE PA Third Committee, Gordana Comic shared many suggestion and ideas for the continuation and expansion of cooperation concerning human rights and democratic institutions.

Link emphasised the importance of cooperation and coordination among the states and institutions in the Western Balkans region, opining that Serbia had approached the problem very responsibly, primarily from a humane aspect.

Vukomanovic concluded that the meeting was an excellent opportunity to discuss rapid responses to the challenges to democracy, security and human rights protection which require cooperation and coordination among the OSCE member states both at the governmental and parliamentary level.


---
---
| M | T | W | T | F | S | S |
| --- | --- | --- | --- | --- | --- | --- |
| 27 | 28 | 29 | 30 | 31 | 1 | 2 |
| 3 | 4 | 5 | 6 | 7 | 8 | 9 |
| 10 | 11 | 12 | 13 | 14 | 15 | 16 |
| 17 | 18 | 19 | 20 | 21 | 22 | 23 |
| 24 | 25 | 26 | 27 | 28 | 29 | 30 |
| 31 | 1 | 2 | 3 | 4 | 5 | 6 |
wednesday, 12 august
No announcements for selected date