National Assembly of the Republic of Serbia / Activities / Activity details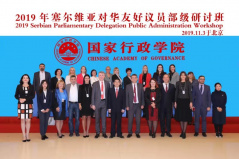 10 November 2019 National Assembly delegation in study visit to the People's Republic of China (photo: © Communist Party of China National Academy of Governance)
Tuesday, 12 November 2019
National Assembly Delegation in Study Visit to People's Republic of China
A 21-member delegation of the National Assembly's PFG with China headed by Prof. Dr Zarko Obradovic paid a study visit to the People's Republic of China 1 – 10 November at the invitation of the Communist Party of China (CPC) National Academy of Governance.
---
In the course of the nine-day visit the delegation attended lectures at the CPC National Academy of Governance to learn about the Chinese state structure, political system and economic reform and achievements. The lecturers also spoke about Chinese President Xi Jinping's diplomatic activities and fundamental political ideas.
The delegation also met with the Vice-Chairman of the Chinese National People's Congress Foreign Affairs Committee Chen Fengxiang.
Recalling the traditionally good relations between Serbia and China, Chen Fengxiang stressed that China has always viewed Serbia as a great friend and the two countries should intensify high-level exchanges and strengthen practical cooperation. Economically-speaking, China is very much present in Serbia with its significant investments into infrastructure, he said highlighting the importance of Serbia's participation in the Belt and Road Initiative. Chen Fengxiang stressed that the members of the Chinese National People's Congress will continue to support the parliamentary cooperation between Serbia and China's legislative bodies, reminding his guests of the excellent relations between China's Communist Party and all the parliamentary parties in Serbia.

Prof. Dr Zarko Obradovic opined that the two countries' exceptionally good relations are greatly aided by the relationship between President Xi Jinping and President Alerksandar Vucic. He thanked China for its support of Serbia's territorial integrity and sovereignty, as well as in multilateral institutions. Prof. Dr Zarko Obradovic also reminded the hosts that Serbia is the most active member of the 16+1 initiative.
In the course of the study visit, PFG Head Prof. Dr Zarko Obradovic also met with the Chair of the BRI International Think Tank Advisory Board Dr Zhao Baige to discuss the modalities of Serbia's future cooperation and inclusion in the activities of the 16+1 initiative.
In the second part of the study visit, the delegation of the PFG with China visited the city of Tianjin, 150km out of Beijing, and met with the leadership of the China Communications Construction Company to talk about the completed and planned infrastructural projects in Serbia. The National Assembly delegation also visited the first Chinese watch factory in Tianjin and the Tianjin Institute of Industrial Biotechnology.


---
---
sunday, 5 july
No announcements for selected date