National Assembly of the Republic of Serbia / Activities / Activity details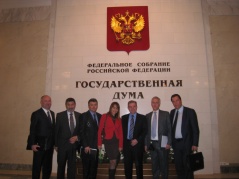 The delegation of the National Assembly's Foreign Affairs Committee
Monday, 15 April 2013
National Assembly Delegation in Official Visit to Russian State Duma
A delegation of the National Assembly's Foreign Affairs Committee will be visiting the State Duma of the Federal Assembly of the Russian Federation, on 16 and 17 April 2013, at the invitation of the Chairman of the International Affairs Committee, A. Pushkov.
---
The delegation, comprising Committee Chairman Milos Aligrudic and Committee members Aleksandra Djurovic, Branislav Mitrovic, Prof. Dr Ljubisa Stojmirovic and Dr Neven Cveticanin, will also meet with the State Duma Deputy Speakers I.I. Melnikov and S.V. Zheleznyak, members of the Friendship Group with Serbia, and hold a joint sitting with the State Duma International Affairs Committee.
The National Assembly delegation will also include Nenad Popovic, National Assembly Deputy Speaker and Head of the Parliamentary Friendship Group with Russia.
---
---
tuesday, 29 september
No announcements for selected date