National Assembly of the Republic of Serbia / Activities / Activity details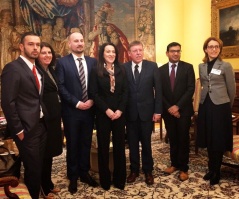 3 December 2017 The National Assembly delegation in visit to the Kingdom of Belgium
Wednesday, 6 December 2017
National Assembly Delegation in Bilateral Visit to Kingdom of Belgium
A National Assembly delegation comprising the Head of the PFG with Belgium Marko Parezanovic and MP Snezana Paunovic visited the Kingdom of Belgium on 3 – 6 December 2017.
---
In the course of the visit to Brussels, the National Assembly delegation met with the Speaker of the Flemish Parliament Jan Peumans, President of the Chamber of Representatives Siegfried Bracke, Head of the PFG with Serbia at the Belgian Federal Parliament David Geerts, Belgian Chamber of Commerce General Manager Wouter Van Gulck and the Vice-President of Besix Matthew Duchamp.

The officials discussed expanding bilateral relations, interparliamentary cooperation, European integration and economic cooperation between the Kingdom of Belgium and Serbia.

The National Assembly delegation found the meetings very useful and all around successful.


---
---