National Assembly of the Republic of Serbia / Activities / Activity details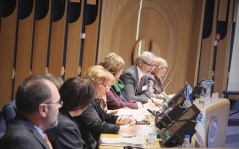 5 March 2014 National Assembly delegation takes part in the Regional Conference on Gender Equality
Friday, 7 March 2014
National Assembly Delegation at Regional Conference on Gender Equality
A delegation of the National Assembly of the Republic of Serbia comprising MPs Meho Omerovic, Dubravka Filipovski and Stefana Miladinovic took part in the Regional Conference on Gender Equality on 5 March 2014 in Sarajevo.
---
The topic of the Sixth Regional OSCE Conference was "Working in parliamentary bodies - achievements and challenges from the perspective of gender equality".

The Conference, hosted by the Parliamentary Assembly of Bosnia and Herzegovina, was attended by representatives of the parliaments of Serbia, Montenegro, Croatia and Albania, as well as representatives of international organisations and the civil sector of Bosnia and Herzegovina.

The Chairman of the Committee on Human and Minority Rights and Gender Equality Meho Omerovic informed the participants of the Conference on the results the Committee had achieved and presented the legislation adopted by the current parliamentary legislature relating to human rights and gender equality.

MP Dubravka Filipovski presented the goals, activities and results the Women's Parliamentary Network had achieved so far, highlighting the Network's challenges and future plans.

MP Stefana Miladinovic presented the current situation in the National Assembly as regards gender equality, representation and influence of women in the parliament, with a short overview of the 24 years of multipartism in the Republic of Serbia.

---
---
| M | T | W | T | F | S | S |
| --- | --- | --- | --- | --- | --- | --- |
| 27 | 28 | 29 | 30 | 31 | 1 | 2 |
| 3 | 4 | 5 | 6 | 7 | 8 | 9 |
| 10 | 11 | 12 | 13 | 14 | 15 | 16 |
| 17 | 18 | 19 | 20 | 21 | 22 | 23 |
| 24 | 25 | 26 | 27 | 28 | 29 | 30 |
| 31 | 1 | 2 | 3 | 4 | 5 | 6 |
friday, 7 august
No announcements for selected date