National Assembly of the Republic of Serbia / Activities / Activity details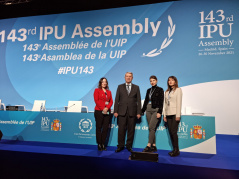 30 November 2021 The National Assembly delegation takes part in the closing of the 143rd Assembly of the Inter-Parliamentary Union
Tuesday, 30 November 2021
National Assembly Delegation at Closing of 143rd IPU Assembly
On the last day of the 143rd Assembly of the Inter-Parliamentary Union, MPs from 130 member states adopted the final document of the main debate on "Contemporary challenges to democracy: Overcoming divisions and building community".
---
The final document highlighted the need to strengthen core democratic values, promote inclusiveness and problem-solving through dialogue and an evidence-based approach. Special attention should be paid to combating disinformation and hate speech, reducing divisions in society, connecting citizens with democratic institutions, and to emergency situations, such as the COVID-19 pandemic. The Standing Committee on Democracy and Human Rights adopted a resolution "Legislation worldwide to combat online sexual child exploitation ".

At the meeting of the Governing Council, a new IPU Strategy for the period 2022-2026 was adopted after several months of consultations within the IPU. In addition, Serbia was singled out as an example of a small number of countries that promote the participation of young people in parliaments, for which our delegation expressed gratitude.

Members of the National Assembly's standing delegation to the IPU Dr Milorad Mijatovic, Jelena Mijatovic, Olivera Ognjanovic and Ivana Popovic took part in the final part of the 143rd IPU Assembly.


---
---
monday, 17 january
9.00 - the members of the PFG with Russia meet with Russian senators (National Assembly House, 13 Nikola Pasic Square, hall 2)