National Assembly of the Republic of Serbia / Activities / Activity details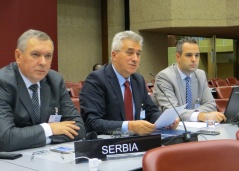 19 October 2015 The members of the National Assembly delegation at the 133rd Assembly of the Inter-Parliamentary Union
Tuesday, 20 October 2015
National Assembly Delegation at 133rd Inter-Parliamentary Union Assembly
Dr Milorad Mijatovic, MP at the National Assembly and member of the Serbian delegation to the Inter-Parliamentary Union (IPU), warned the parliamentary delegations from all over the world of the danger of Kosovo joining UNESCO, at the 133rd Assembly of the Inter-Parliamentary Union in Geneva.
---
In the debate on "Ensuring lasting protection against destruction and deterioration for the tangible and intangible cultural heritage of humanity", Mijatovic drew attention to the dire state of the Serbian heritage in Kosovo-Metohija and asked for support for its protection. The results of the debate will be used to draft a resolution on the topic at the next assembly.

"Pristina does not act responsibly and is not capable of protecting cultural monuments. Their UNESCO bid is illegitimate and unacceptable because 141 Serbian Orthodox cultural monuments have been damaged or destroyed since 1999 and nothing has been done to protect them or process and try the culprits"- said Mijatovic.

The Serbian delegation is taking part in the 133rd Assembly of the Inter-Parliamentary Union with the key topics - current migrant and refugee crisis, countering terrorism and protecting privacy and individual freedoms in the digital era. The National Assembly delegation is headed by National Assembly Speaker Maja Gojkovic. The 133rd Assembly is attended by over 130 delegations from the entire world.


---
---