National Assembly of the Republic of Serbia / Activities / Activity details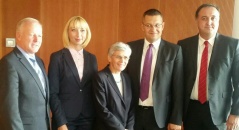 11 September 2015 National Assembly's parliamentary delegation in visit to Berlin
Friday, 11 September 2015
National Assembly Delegation Visits Berlin
A parliamentary delegation of the National Assembly of the Republic of Serbia headed by MP Vesna Markovic visited Berlin on 6-10 September 2015 at the invitation of the Chair of Bundestag's SEE Parliamentary Friendship Group Peter Weiss.
---
The delegation met with the Parliamentary State Secretary at the German Ministry of Interior Gunter Krings, Bundestag Vice-President Claudia Roth, Minister of State at the Foreign Office Michael Roth, Chair of the Committee on the Affairs of the European Union Gunther Krichbaum, Deputy Head of the Department of Foreign, Security and Development Policy at the Chancellor's Office Joachim Bertele, and many fellow MPs of the Bundestag.
The topics of the meetings were Serbia's European integration, current migration crisis, the Berlin Process and exchange of experiences about the functioning of the two parliaments.
The National Assembly's delegation comprised MPs Zoran Babic and Muamer Bacevac.
---
---
friday, 18 september
No announcements for selected date