National Assembly of the Republic of Serbia / Activities / Activity details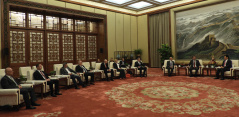 27 May 2019 The National Assembly delegation in meeting with the of the Chairman of the Chinese National People's Congress
Monday, 27 May 2019
National Assembly Delegation Meets with Chinese National People's Congress Chairman: Serbia and China Paragon of Bilateral Relations
The National Assembly delegation headed by National Assembly Deputy Speaker Veroljub Arsic met today with the Chairman of the Chinese National People's Congress Li Zhanshu in Beijing.
---
National Assembly Deputy Speaker Veroljub Arsic said that the interparliamentary Commission presents an excellent opportunity for the parliaments to lend their support to the cooperation between the two countries, based on a comprehensive strategic partnership.
Arsic briefed the Chairman of the Chinese National People's Congress on the situation in Kosovo-Metohija in detail and thanked China for its unwavering support of Serbia's sovereignty and territorial integrity.
The Chairman of the Chinese National People's Congress Li Zhanshu opined that the second meeting of the Commission for Cooperation between the National Assembly of the Republic of Serbia and the Chinese National People's Congress was a success and that this type of cooperation gives a new dimension to the traditionally good relations between the two countries. He praised the high degree of political trust and overall cooperation, especially intensified after president Xi Jinping's 2016 visit to Serbia.
The two sides agreed that the Serbia-China relations are a shining example of political and economic relations, fortified by the two presidents. They noted that reciprocal support on issues of vital and national interest is the keystone the two countries' political trust. Speaking of the economy, they highlighted the importance of joint projects such as the Smederevo steel mill, Belgrade-Budapest railway, Mihailo Pupin bridge, Kostolac B thermal power plant and the investment into Bor copper mine.

They also highlighted the importance of cultural cooperation because promoting understanding between peoples and cultures is the way to strengthen cooperation across the board.
In addition to National Assembly Deputy Speaker and Commission co-chair Veroljub Arsic, on the part of the National Assembly the meeting was attended by the Chairman of the Foreign Affairs Committee and Head of the Parliamentary Friendship Group with China Prof. Dr Zarko Obradovic, Chairperson of the Committee on the Economy, Regional Development, Trade, Tourism and Energy Snezana B. Petrovic, Chairman of the Health and Family Committee Dr Sci.med Darko Laketic, Chairman of the Culture and Information Committee Mirko Krlic and Deputy Chairman of the Committee on Education, Science, Technological Development and the Information Society Prof. Dr Ljubisa Stojmirovic.


---
---
sunday, 5 july
No announcements for selected date