National Assembly of the Republic of Serbia / Activities / Activity details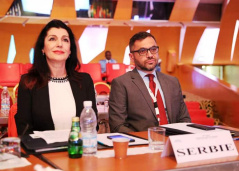 9 July 2019 The National Assembly's standing delegation at the 45th session of the Parliamentary Assembly of La Francophonie
Tuesday, 9 July 2019
National Assembly Becomes Associate Member of Parliamentary Assembly of La Francophonie
The National Assembly of the Republic of Serbia became an associate member of the Parliamentary Assembly of La Francophonie (APF) at the organization's 45th session in Abidjan, Ivory Coast, 5 – 9 July, attended by over 500 members of more than 40 parliaments of APF member states, APF Speaker Francois Paradis, Secretary General of the International Organization of La Francophonie Louise Mushikiwabo, APF Secretary General Jacques Krabal and the Ivory Coast Parliament Deputy Speaker.
---
The Parliamentary Assembly of La Francophonie is the parliamentary dimension of La Francophonie, founded in 1970 on the principles of equality, complementarity and solidarity. La Francophonie is an important international organization whose members cooperate in matters of culture, science, economy, justice and peace. Along with others, La Francophonie works on the promotion of linguistics and culture in the era of globalism.
"The change in status is a sign of APF's great trust and support for the National Assembly of the Republic of Serbia. Serbia's presence in the APF is no accident. French is the base on which Serbia's political and intellectual elite of the 19th and early 20th century was formed. The status of associate member is encouraging as it allows us to take part in the decision-making and obliges us to work on furthering the principles of La Francophonie - equality, complementarity, diversity and solidarity", said MA Jadranka Jovanovic, Head of the National Assembly's standing delegation to APF, at the plenary session. On the occasion, she also gave an interview to the Ivory Coast national news.


---
---
wednesday, 3 june
12.30 - press conference of MPs Bosko Obradovic, MA Ivan Kostic, Marija Janjusevic and Dr Dragan Vesovic (National Assembly House, 13 Nikola Pasic Square, Central Hall)

13.00 - press conference of MPs Sasa Radulovic, Branka Stamenkovic and Vojin Biljic (National Assembly House, 13 Nikola Pasic Square, Central Hall)