National Assembly of the Republic of Serbia / Activities / Activity details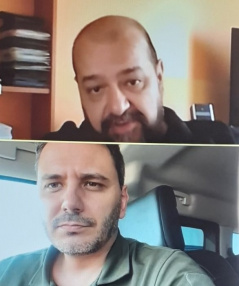 10 June 2022 The Heads of the National Assembly and Ukrainian Verkhovna Rada delegations to the NATO PA
Friday, 10 June 2022
Meeting of Heads of National Assembly and Ukrainian Verkhovna Rada Delegations to NATO PA
Today, the Head of the standing delegation of the National Assembly of the Republic of Serbia to the NATO Parliamentary Assembly Dragan Sormaz held a virtual meeting with the Head of the delegation of the Ukrainian Verkhovna Rada to NATO PA Yehor Cherniev.
---
Sormaz expressed regret for the situation in Ukraine, extending solidarity to the people of the country and hoping that the conflict would end and peace be established as soon as possible. He reminded the official that Serbia respects the principle of territorial integrity and sovereignty of states, Ukraine included.
Cherniev wanted to know when the Republic of Serbia could be expected to join the EU sanctions against the Russian Federation. He expressed readiness to advance cooperation between the delegations within the NATO PA and announced that he would send an official invitation to the National Assembly delegation to the NATO PA to visit Ukraine in the coming period.
---
---
monday, 5 june
No announcements for selected date