National Assembly of the Republic of Serbia / Activities / Activity details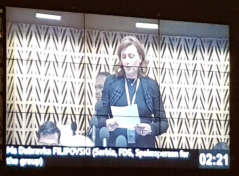 23 January 2019 Dubravka Filipovski, member of the National Assembly's standing delegation to PACE and PACE winter session
Wednesday, 23 January 2019
Media Strategy to Improve Media Atmosphere in Serbia
Taking part in the debate on media freedom of the PACE winter session, Dubravka Filipovski, member of the National Assembly's standing delegation to the Parliamentary Assembly of the Council of Europe (PACE), stressed that the rule of law, independence of the judiciary and media freedom are the three fundamental principles of democratization and progress of any European society.
---
"Serbia has passed a new Law on the Media, in line with the opinion of the European and Venice Commission, according to which the country completed the privatization of the media, as well as a number of by-laws. Serbia is also working on a new media strategy to contribute to the further improvement of the media atmosphere in Serbia in the spirit of the best international experiences."
Filipovski said that fake news are not criminalized in Serbia because that could be interpreted as suppressing the freedom of expression. However, speaking of truthful reporting the standards of professionalism are violated for economic reasons because the competition makes it the only way for them to remain on the market.
Unfortunately, violence against journalists in some European countries such as Slovakia and Malta some with fatal results, gave last year a dark outlook. In Serbia such was the case of arson against journalist Milan Jovanovic from Grocka. The perpetrator was quickly caught, but not the person who ordered the arson, and Filipovski expects the relevant Serbian authorities to resolve the case to everyone's satisfaction
Filipovski said that persecution and insults flung against journalists by some politicians of the opposition and their supporters for reports they do not like is a big problem in Serbia.
Filipovski completed her address by saying that social networks are a significant segment of the media, they are very influential and a place where Serbian citizens are free to air their views, unlike in some countries in the world.


---
---
friday, 25 june
11.00 - the members of the PFG with UK meet with the UK Ambassador to Serbia (National Assembly House, 13 Nikola Pasic Square, Small Hall)

13.00 - sitting of the European Integration Committee (National Assembly House, 13 Nikola Pasic Square, hall 3)