National Assembly of the Republic of Serbia / Activities / Activity details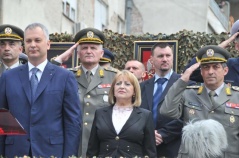 23 April 2012 Speaker of the National Assembly Prof. Dr Slavica Djukic Dejanovic attends the Army Day celebration
Monday, 23 April 2012
Marking Army Day
The Speaker of the National Assembly, Prof. Dr Slavica Djukic Dejanovic, acting President of the Republic of Serbia, attended the celebration of Army Day in Leskovac.
---
Minister of Defence Dragan Sutanovac, the Chief of General Staff of the Army of Serbia Ljubisa Dikovic and highest state and military representatives attended the celebration.
Speaker Djukic Dejanovic said that this was the first time 23 April was celebrated as Army Day, marking the day when in 1815 it was decided to stage the Second Serbian Uprising:
"It is a pleasure to be here today as the parade stirs the memory of the army's traditional devotion to the people, the tradition of a soldier ready to lose that most valuable of things, his life, for the honour of his fatherland. At the same time we had the chance to see what contemporary education, knowledge and skills mean, the modern technologies our army uses and the many opportunities to make peace and security the reality of our future. I would like to take this opportunity to congratulate all the members of the Army of Serbia on the holiday", said Speaker Slavica Djukic Dejanovic.
Around 2,000 members of the Ministry of Defense and the Serbian Army took part in the Jablanica 2012 demonstration in Leskovac.

---
---
sunday, 11 june
No announcements for selected date