National Assembly of the Republic of Serbia / Activities / Activity details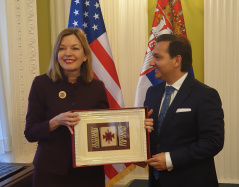 14 March 2019 National Assembly Deputy Speaker Prof. Dr Vladimir Marinkovic and US Assistant Secretary of State Marie Royce
Thursday, 14 March 2019
Marinkovic Meets with US Assistant Secretary of State
National Assembly Deputy Speaker Prof. Dr Vladimir Marinkovic met today with US Assistant Secretary of State Marie Royce, visiting Serbia to foster closer ties in the fields of science, culture and education.
---
Prof. Dr Vladimir Marinkovic said that the ample economic, defence and military partnership should be accompanied by better educational, cultural and scientific cooperation. He thanked the US Embassy and its attending representatives for the excellent cooperation on last year's celebration of the 100th anniversary of the end to World War One through a series of cultural and educational events, testament to the two countries' friendship in the previous century. Marinkovic went on to say that sharing educational and cultural experiences is very important for strengthening ties between the two countries. He stressed that Serbia appreciates American culture and its fight for human and minority rights, liberalism and democracy. He also spoke about the cooperation in combating corruption and the migrant crisis. The conversation then turned to the economy with Marinkovic emphasising the importance of US investments in Serbia which have in the last decade reached three billion US dollars and, more importantly, provided jobs for 17,000 people. The Deputy Speaker also thanked the US for its support of Serbia's Euro-integration, adding that the National Assembly's 74-member PFG with the US is ample proof of the two countries' friendship.
Marie Royce said she was very interested in deepening cultural cooperation, mentioning that since 2001, 2400 students have gone through the exchange program. The US Embassy in Serbia had taken part in 10 projects concerning the protection of cultural heritage, she said, adding that the preservation of culture strengthens tourism and with it the economy of the country. Royce also spoke about cooperation in the sphere of sports, especially women's sports, and with it the inclusion of women and strengthening of women's rights.
The officials also spoke about religious cooperation since both countries are multireligious and multicultural and concluded that this this type of cooperation is a pillar of reconciliation.


---
---
saturday, 6 june
No announcements for selected date