National Assembly of the Republic of Serbia / Activities / Activity details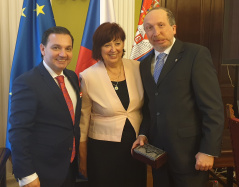 20 March 2019 National Assembly Deputy Speaker Prof. Dr Vladimir Marinkovic and the Czech Parliamentary delegation
Wednesday, 20 March 2019
Marinkovic Meets with Czech Parliamentary Delegation
National Assembly Deputy Speaker Prof. Dr Vladimir Marinkovic met today with delegation of the Czech Parliamentary Committee on Science, Education, Culture, Youth and Sport currently in official visit to the Republic of Serbia.
---
Marinkovic welcomed the Czech delegation saying that the two countries cooperation is very important and can be strengthened at the parliamentary level through reciprocal parliamentary visits, as well as through closer economic ties. Serbia is open to cooperation with the Czech Republic in the fields of culture and education, as well as economy because it would like to continue the trend of economic growth, said the Deputy Speaker. He went on to say that Serbia would like to have industrial parks like the ones in the Czech Republic and is hard at work on building its economy. The Deputy Speaker informed the delegation about the conducted fiscal consolidation and that Serbia as a country with a qualified workforce is working on stimulating domestic production and small and medium-sized private entrepreneurship, for which the Czech Republic is an excellent role model. Marinkovic added that he is very much in favour of cooperation with the countries of the Visegrad Group, adding that there is ample room to expand cooperation between the two countries to full capacity. He stressed that if the cultural and educational cooperation expanded, the economic cooperation would naturally follow suit.
Vaclav Klaus, Chairman of the Committee on Science, Education, Culture, Youth and Sport of the Czech Parliament, noted that the relations between the two countries have been revitalized in the last few years as evidenced by high-level state visits. He said that the Committee aims to endorse meetings of this kind, where the parliamentarians can discuss educational, cultural, sporting and scientific cooperation, adding that this visit has been successful and very useful. He added that he is also member of the Czech Parliamentary Friendship Group with Serbia and can be the direct point of contact for any future cooperation between the parliamentarians.
The officials agreed that the cooperation between the two countries can be advanced especially since they have no outstanding issues and share a long-standing friendship.


---
---
wednesday, 26 february
10.00 - continuation of the 26th Extraordinary Session of the National Assembly of the Republic of Serbia, 11th Legislature (National Assembly House, 13 Nikola Pasic Square)

10.30 - sitting of the Committee on Constitutional and Legislative Issues (National Assembly House, 13 Nikola Pasic Square, hall 3)

11.00 - the members of the PFG with the United Arab Emirates meet with the UAE Ambassador to Serbia (National Assembly House, 13 Nikola Pasic Square, hall 2)

11.00 - press conference of MP Milija Miletic (National Assembly House, 13 Nikola Pasic Square, Central Hall)

13.30 - press conference of MP Tatjana Macura (National Assembly House, 13 Nikola Pasic Square, Central Hall)

14.15 - press conference of MP Enis Imamovic (National Assembly House, 13 Nikola Pasic Square, Central Hall)