National Assembly of the Republic of Serbia / Activities / Activity details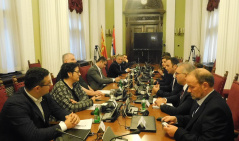 24 January 2018 The Macedonian Deputy Prime Minister for European Affairs in visit to the European Integration Committee
Wednesday, 24 January 2018 11:05
Macedonian Deputy Prime Minister for European Affairs Visits European Integration Committee
The members of the European Integration Committee met today with Bujar Osmani, Macedonian Deputy Prime Minister for European Affairs, to discuss Serbia's EU negotiation experiences, regional cooperation and the overall relations between Serbia and Macedonia.
---
European Integration Committee Chairman Nenad Canak presented the Committee's contribution to Serbia's European integration efforts. He stressed that in the past three years Serbia has opened 12 negotiation chapters which is a credit not only to the current but to all the previous governments. He underlined Serbia's firm commitment to European integration despite all the challenges and problems the EU is facing today, as well as Serbia's commitment to regional cooperation.
Committee member Gordana Comic commended Bulgaria's decision, as President of the EU Council, to bring the countries of the Western Balkans, after a long time, back to the top of the enlargement agenda. She stressed that Serbia is dedicated to the region's European future despite all the challenges it is faced with. Speaking of Serbia's EU negotiation experiences, Comic stressed how important it is to include all the interested social factors in the negotiation process. She presented Serbia's negotiation model viz. the role the National Assembly and the National Convention on the EU play in the talks. Comic thanked the Macedonian Deputy Prime Minister for the interest in cross-border cooperation projects.
Committee members Natasa Vuckovic, MA Aleksandra Jerkov, Vera Jovanovic, Dr Muamer Bacevac, Zarko Micin, Zvonimir Djokic and Vladimir Djuric also took part in the discussion which touched on the reform processes in Macedonia, improving cooperation between the countries and the neighbourly relations in the region.
Macedonian Deputy Prime Minister for European Affairs Bujar Osmani said that Serbia is an important economic partner to Macedonia. After Germany and Greece, Serbia is Macedonia's third biggest foreign trade partner.
He agreed with the Serbian parliamentarians that regional cooperation and exchange of experiences with other candidate countries are essential for the region's EU accession.
---
---
friday, 21 january
13.00 - meeting of the Inter-Party Dialogue Control Body (National Assembly House, 13 Nikola Pasic Square, hall 1)