National Assembly of the Republic of Serbia / Activities / Activity details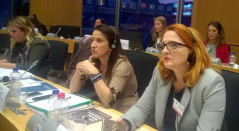 19 November 2018 MPs at Interparliamentary Meeting on European Cultural Heritage
Monday, 19 November 2018
MPs at Interparliamentary Meeting on European Cultural Heritage
Culture and Information Committee members Dragana Kostic and Snezana Paunovic will be taking part in the interparliamentary meeting on European Cultural Heritage organized by the European Parliament's Committee on Culture and Education on 19-20 November 2018.
---
The aim of this event is to bring together the Members of the European Parliament and the members of the national parliaments of EU member and candidate states.
The interparliamentary meeting is organized around three thematic areas: Culture and Identity, Preservation, Conservation and Restoration of Cultural Heritage and Cultural Heritage and Education.

MP Dragana Kostic spoke about the endangered Serbian cultural heritage and eradication of the Serbian identity in Kosovo-Metohija. She said that during the Serbian people's tumultuous history its cultural monuments shared the suffering of the people and culture and identity always bore the brunt of the conquerors in the Balkans. Today, over 250,000 Serbs have been exiled from their age-old hearths in Kosovo-Metohija, their property was stolen and destroyed, and the very existence of Serbian culture and identity is under attack, said Kostic adding that since the arrival of the international military and civilian representatives in Kosovo-Metohija after 1999, 150 Serbian churches and monasteries were torn down, more than 10,000 icons and church art pieces were stolen and cemeteries were destroyed too.
We are witnessing a re-writing and falsification of history, medieval Serbian Christian churches and rulers are declared to be Albanian, said Dragana Kostic. She concluded that that alone makes the so-called state of Kosovo's UNESCO bid pointless and vile because how could those who have been destroying and endangering Christian churches invaluable for the Serbian and world cultural heritage protect them?
MP Snezana Paunovic said that the capital of Serbia's Northern Province, Novi Sad, will be the 2021 European Capital of Culture. On the other hand, the protection of the Serbian cultural heritage in the Southern Province of Kosovo-Metohija is a painful subject. UNESCO's data confirmed that this heritage is in danger. She added that those who violated the Serbian cultural monuments need to be found, as well as those who had destroyed the cemeteries after the arrival of the international peace corps, especially in 2004.


---
---