National Assembly of the Republic of Serbia / Activities / Activity details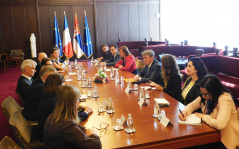 15 June 2019 The MPs in meeting with the French parliamentary delegation
Monday, 15 July 2019
MPs Meet with French Parliamentary Delegation
MPs headed by Foreign Affairs Committee Chairman Prof. Dr Zarko Obradovic met with the French parliamentary delegation accompanying French President Emmanuel Macron on his official visit to the Republic of Serbia.
---
Greeting the parliamentary delegation, Prof. Dr Zarko Obradovic said that President Macron's visit opens a new chapter in the traditionally friendly relations between Serbia and France. Obradovic opined that parliamentarians, as the elected representatives of the people, can play an important role in advancing bilateral cooperation.
The Foreign Affairs Committee Chairman said that joining the EU is Serbia's foreign policy priority as is maintaining a good relationship with big powers such as France, the US, Russia and China. Also, because of its central position in the Balkans, regional cooperation and good-neighbourly relations are very important for the state.
European Integration Committee Chairman Nenad Canak said that Serbia's European integration enjoys majority support in the National Assembly and is endorsed by most MPs.
Sharing their strong support for Serbia's European integration, the members of the French parliamentary delegation headed by Senator Alain Richard asked about the role the National Assembly and its committees play in the harmonization of the national with the European legislation.

The officials also spoke about the cooperation between Serbian and French parliamentarians in international parliamentary organizations, highlighting the Serbian delegation's noteworthy activity in the Parliamentary Assembly of La Francophonie, headed by MA Jadranka Jovanovic.
The meeting was also attended by the head of the National Assembly delegation to the Parliamentary Assembly of La Francophonie MA Jadranka Jovanovic, Foreign Affairs Committee Deputy Chairperson Dubravka Filipovski and the members of the PFG with France Jelena Zaric Kovacevic and Dr Predrag Jelenkovic.


---
---