National Assembly of the Republic of Serbia / Activities / Activity details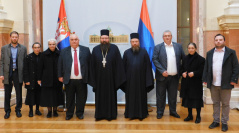 14 February 2020 The MPs with the spiritual counsellor and nuns of the sisterhood of St.Lydia
Friday, 14 February 2020
MPs Komlenski and Torbica Receive Spiritual Counsellor and Nuns of St.Lydia Sisterhood from Asprovalta
MPs Djordje Komlenski and Bojan Torbica received, at the National Assembly, spiritual counsellor Archimandrite Nikanor and the nuns of the sisterhood of St.Lydia from Asprovalta, currently visiting Serbia.
---
MP Djordje Komlenski greeted the guests on behalf of National Assembly Speaker Maja Gojkovic and himself, saying that the Greek people and Orthodox Church have always been friendly and respectful of the positions of the Serbian state and Orthodox Church.
Komlenski was especially pleased that Serbian President Aleksandar Vucic would be awarding the nuns of the sisterhood of St.Lydia with 1st class order on Serbia's Statehood Day. This is a symbolic way to thank the nuns for their love and support of the Serbian child exiles of 1995 Operation Storm when they received more than 1000 Serbian children, established a Serbian school and raised them.
Archimandrite Nikanor said that these difficult times call for real friendships such as the one between the Serbian and Greek people. The order the nuns of the sisterhood of St.Lydia are to receive confirms the closeness and friendship between the two nations, he said, stressing that it is our duty to cultivate that friendship.

---
---
friday, 8 december
No announcements for selected date