National Assembly of the Republic of Serbia / Activities / Activity details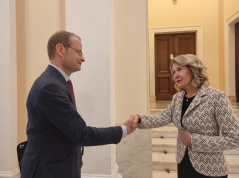 12 October 2022 MP Rozalia Okresz with the representative of the Hanns Seidel Foundation Wolf Krug
Wednesday, 12 October 2022
MP Rozalia Okresz Meets with Hanns Seidel Foundation Representative Wolf Krug
MP Rozalia Okresz met today at the National Assembly House with representative of the Hanns Seidel Foundation Wolf Krug, head of the Institute of European and Transatlantic Dialogue.
---
The topic of conversation were the activities and participation of the Alliance of Vojvodina Hungarians in the work of the National Assembly.
The meeting was also attended by Uros Cemalovic, partner of the Foundation in Serbia, Dagmar Konstantinovic, head of the Belgrade Office, and Jelena Djurovic, deputy head of the Belgrade Office.
---
Photo gallery
---
---
wednesday, 4 october
9.00 - sitting of the Committee on Finance, State Budget and Control of Public Spending (National Assembly House, 13 Nikola Pasic Square, hall 2)

10.00 - the National Assembly Speaker meets with the Chinese Ambassador to Serbia (National Assembly House, 13 Nikola Pasic Square, hall 1)

12.00 - sitting of the Culture and Information Committee (National Assembly House, 13 Nikola Pasic Square, hall 4)