National Assembly of the Republic of Serbia / Activities / Activity details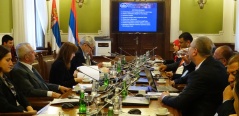 19 April 2016 MP Meho Omerovic in meeting with the Palestinian delegation
Tuesday, 19 April 2016
MP Meho Omerovic Meets with Palestinian Delegation
In the course of their study visit to Serbia, representatives of Palestinian high-level state services met with the Chairman of the Committee on Human and Minority Rights and Gender Equality and member of the Security Services Control Committee Meho Omerovic.
---
In his keynote address, on the behalf of the Geneva Centre for the Democratic Control of Armed Forces (DCAF), organiser of the study visit, Milan Sekuloski said that the National Assembly is not just the supreme legislative body, but also the body supervising the implementation of laws and human rights. The National Assembly organises debates, as well as institutional and extra-institutional public hearings, which is evidenced in the Parliament's readiness to help organise the current study visit, said Sekuloski.
In the ensuing panel discussion, Meho Omerovic spoke about the National Assembly's experience in dealing with the complaints of the public and employees of the work of the police and the Security Information Agency. He welcomed the Palestinian delegation to the National Assembly House, reminding them that the edifice was also the venue of the First Summit of the Non-Aligned Movement, and that Serbia now, just like in 1961, has good and friendly relations with Palestine.
Omerovic said that oversight is the most important link in the chain of democratic control over the security sector, so it needs to be constantly improved and developed.
"That is why meetings like this one are important as they encourage the exchange of experiences, knowledge and best practice", said Omerovic.
He stressed that the Constitution of the Republic of Serbia and fundamental strategic security documents and laws designate the National Assembly as the key factor of democratic and civil control of the entire system of national security.
Omerovic proceeded to brief the guests on the National Assembly's authority and scope of duties.
Kamel Shukri Muhamed Darabuzidan of the Secretariat of the Palestinian Council of Ministers was delighted by the welcome and detailed presentation of the RS National Assembly's mode of operation. He reaffirmed that the long history of friendly relations between Serbia and Palestine continues today, as seen in Serbia's ongoing support of Palestine.
The participants of the meeting agreed that there is plenty of room to improve cooperation in all spheres, opining that today's exchange would be to everyone's great benefit.
---
---