National Assembly of the Republic of Serbia / Activities / Activity details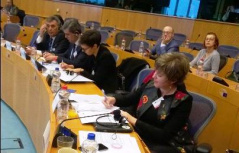 27 November 2018 MP Elvira Kovacs at the Roundtable on the European integration process of the Western Balkans – regional perspective
Tuesday, 27 November 2018
MP Elvira Kovacs at Roundtable on Western Balkans European Integration Process - Regional Perspective
The High-level Roundtable on the European integration process of the Western Balkans – regional perspective, organised by the European Parliament, began in Brussels on 27 November.
---
The roundtable was organized under the auspices of the European Parliament Support Programme for the parliaments of enlargement countries and is intended for Western Balkans parliamentarians with the participation of MEPs, representatives of the European Commission and the non-governmental sector in the Western Balkans.
The participants of the roundtable are discussing the future of the EU enlargement policy.
The topics are: "The reform agenda and its implementation in the EU accession process" and "The prospects for a lasting improvement of bilateral relations between the Balkan countries".
European Integration Committee Deputy Chairperson Elvira Kovacs is taking part in the roundtable.
Elvira Kovacs said that EU accession is Serbia's strategic goal and the National Assembly supports European integration.
She said that the recent incidents in Kosovo-Metohija are very bad for Serbia's as well as the entire Western Balkans' EU accession.
Serbia believes that all problems need to be resolved peaceably through dialogue and the signed documents need to be respected. CEFTA is a preparation of a kind for future EU membership and the obligations assumed under it need to be respected. Any unilateral action that brings the survival of the people into question is a step backward which threatens to jeopardize the stability of the region.
Serbia will continue to be a credible partner to the European Union and reliable factor in the region, which desires a mutually-acceptable solution. However, EU's help is vital. That is why we appeal to the MEPs to do all in their power to help resolve the existing problems.
According to the latest polls, EU accession enjoys 52% public support in Serbia. On the other hand, the reforms win 70% of public trust. That shows our society's readiness and awareness that reforms are the way to a better life, not just to EU accession.
Serbia started the EU negotiation talks in 2014, with the first two chapters being opened in December 2015. So far, Serbia has opened 14 negotiation chapters, two of which are temporarily closed. We hope to open three more by the end of the year. We believe the process should be expedited since Serbia is technically and administratively ready for the negotiation process and the implementation of the obligations it entails.
Finally, European Integration Committee Deputy Chairperson Kovacs said that the European Union faces its biggest challenges to date, but we still hope it will continue to pursue its enlargement policy.


---
---
thursday, 9 april
13.00 - press conference of MPs Sasa Radulovic, Branka Stamenkovic and Vojin Biljic (National Assembly House, 13 Nikola Pasic Square, Central Hall)