National Assembly of the Republic of Serbia / Activities / Activity details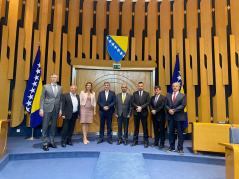 26 May 2022 MP Dubravka Filipovski at the regional meeting on the Western Balkans – Our Perspectives
Thursday, 26 May 2022
MP Dubravka Filipovski at Regional Meeting on Western Balkans – Our Perspectives
On 24 and 25 May 2022, the Global Organisation for Tolerance and Peace IPTP had organised a gathering entitled the Western Balkans – Our Perspectives for the MPs from the Western Balkans region in the Parliament of Bosnia and Herzegovina, Sarajevo.
---
On the occasion, taking part in the discussion MP Dubravka Filipovski stressed that Serbia is focused on maintaining peace and stability in the region.
"It is Serbia's goal to promote the relations in the region, so that all the Western Balkan countries can work together on strengthening economic cooperation and taking part in regional initiatives such as the Berlin Process, Open Balkans and the implementation of the Green Agenda.
EU integration should be our region's primary interest. The representatives of the Western Balkan countries should take very opportunity to introduce our European partners to the all the positive changes as well as problems in our region.
The fact that the enlargement policy has not been at the top of the EU agenda for some years now is another problem. The policy of trust, reducing tensions and resolving issues inherited from the past should be the primary interest in the Western Balkans."
---
---