National Assembly of the Republic of Serbia / Activities / Activity details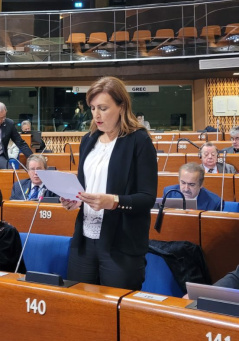 24 January 2023 The member of the standing delegation of the National Assembly of the Republic of Serbia to the Parliamentary Assembly of the Council of Europe Dubravka Filipovski
Tuesday, 24 January 2023
MP Dubravka Filipovski at Debate on Conflict-Related Sexual Violence Report at PACE Session
Member of the standing delegation of the National Assembly of the Republic of Serbia to the Parliamentary Assembly of the Council of Europe (PACE) Dubravka Filipovski, took part in the debate on the report entitled "Conflict-Related Sexual Violence" at the PACE Session on 24 January 2023.
---
Addressing the plenum, Filipovski stressed that during the conflicts in former Yugoslavia, as well as in 1999 in Kosovo-Metohija, the Serbian population had been exposed to monstrous crimes, including sexual violence against women and children. "Thanks to Dick Marty's report on the trade in human organs committed against Serbs in Kosovo-Metohija and Albania, as well as the Resolution of the Parliamentary Assembly of the Council of Europe on the serious crime, the accused are currently on trial before the Hague Tribunal", said Filipovski. Filipovski stressed that the number of victims of sexual violence is often manipulated, especially by so-called "Kosovo", which is appalling. She shared accurate data on the victims quoting the UN Secretary General's 2020 Report.
The Parliamentary Assembly continues the Winter Session in Strasbourg, held 23 – 27 January 2023.
---
---
monday, 11 december
No announcements for selected date