National Assembly of the Republic of Serbia / Activities / Activity details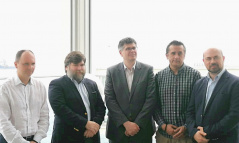 9 April 2019 MP Aleksandar Cotric and the members of the Serbia-Cyprus Friendship Society
Tuesday, 9 April 2019
MP Cotric with Members of Serbia-Cyprus Friendship Society
Aleksandar Cotric, MP and member of the National Assembly Committee on the Diaspora and Serbs in the Region, who attended the meeting of the International Secretariat of the Interparliamentary Assembly on Orthodoxy in Cyprus, met in Larnaca with Serbian Ambassador in Nicosia Marko Blagojevic and the members of the Serbia-Cyprus Friendship Society headed by President Nenad Bogdanovic.
---
MP Cotric informed the members of the Society about the composition, scope of authority and activities of the Committee and invited the leaders of the newly-formed society to visit the Committee at the National Assembly of the Republic of Serbia.
Ambassador Blagojevic and the representatives of the Serbia-Cyprus Friendship Society, first of its kind on the island, said that several thousands of Serbian citizens live and work in Cyprus in the tourist, service, IT, transportation, banking and other industries. They hope to, with the help of the Serbian Embassy and the institutions of the mother country as well as the Cypriot authorities organize art events and programmes to help maintain the Serbian identity and present its tradition and modern cultural achievements to the people of Cyprus. They added that recently a chapel was opened in Cyprus offering service in Serbian.


---
---
wednesday, 2 december
10.00 - continuation of the Fifth Sitting of the Second Regular Session of the National Assembly of the Republic of Serbia in 2020 (National Assembly House, 13 Nikola Pasic Square)

10.30 - the Chairman of the Foreign Affairs Committee meets with the US Ambassador to Serbia (National Assembly House, 13 Nikola Pasic Square, hall 2)

12.00 - the members of the Foreign Affairs Committee meet with the Dutch Ambassador to Serbia, Norwegian Embassy's Defence Attache and the Head of the NATO Military Liaison Office (National Assembly House, 13 Nikola Pasic Square, hall 3)

12.00 - National Assembly Speaker Ivica Dacic meets with the Head of the EU Delegation to Serbia Sem Fabrizi (National Assembly House, 13 Nikola Pasic Square, diplomatic salon of Prince Pavle Karadjordjevic)

13.00 - sitting of the Security Services Control Committee (National Assembly House, 13 Nikola Pasic Square, hall 4)