National Assembly of the Republic of Serbia / Activities / Activity details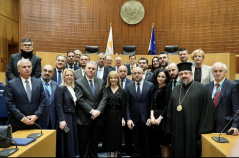 19 March 2023 The participants of the session of the IAO Secretariat
Thursday, 23 March 2023
MP Cotric at IAO Session in Cyprus
MP and Head of the standing delegation of the National Assembly of the Republic of Serbia to the Interparliamentary Assembly on Orthodoxy (IAO) Aleksandar Cotric took part in the session of the IAO International Secretariat, held in the Republic of Cyprus, 16 – 19 March 2023.
---
Cotric drew attention to the inordinate moves of the provisional institutions in Pristina which refuse the honour the assumed obligation to set up a Community of Serb Municipalities and the numerous attacks by Albanian extremists in Kosovo-Metohija on members of the Serbian people, seizure of their property and defiling of temples of the Serbian Orthodox Church.
At the session, it was decided that the IAO Annual Assembly be held in June in Greece.
On the sidelines, as a member of the IAO delegation, Cotric had meeting with the President of Cyprus Nikos Christodoulides, Speaker of the House of Representatives Annita Demetriou, Foreign Minister Constantinos Kombos and the Archbishop of Cyprus Georgios. The MP thanked the Cypriot dignitaries on the country's principled position of non-recognition of the unilaterally declared independence of Kosovo and the support for our Country's European integration. He also highlighted Serbia's support of the territorial integrity of Cyprus and efforts to re-unite the island through peaceful means.
In the course of his stay in Cyprus also met with the Serbian Ambassador Marko Blagojevic and informed his on the conclusions adopted at the IAO session and the talks with the Cypriot dignitaries. Ambassador Blagojevic in turn informed the MP about the all-round top-level relations between the two friendly countries of Serbia and Cyprus.
---
---
| M | T | W | T | F | S | S |
| --- | --- | --- | --- | --- | --- | --- |
| 27 | 28 | 29 | 30 | 1 | 2 | 3 |
| 4 | 5 | 6 | 7 | 8 | 9 | 10 |
| 11 | 12 | 13 | 14 | 15 | 16 | 17 |
| 18 | 19 | 20 | 21 | 22 | 23 | 24 |
| 25 | 26 | 27 | 28 | 29 | 30 | 31 |
friday, 1 december
No announcements for selected date