National Assembly of the Republic of Serbia / Activities / Activity details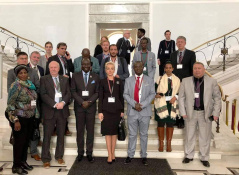 22 March 2019 The participants of the conference on diasporas in Warsaw
Tuesday, 26 March 2019
MP Cotric at Conference on Diasporas in Warsaw
MP Aleksandar Cotric, member of the Committee on the Diaspora and Serbs in the Region, took part in the conference on "The role of the diasporas in the development of the civil society" in Warsaw on 22 March. The conference was organized by the Parliamentary Assembly of the Council of Europe (PACE)'s Parliamentary Network on Diaspora Policies at the invitation of the Polish Sejm (Parliament).
---
The conference was attended by participants from thirty European, Asian and African states who discussed the role of the diasporas in the development of the civil society, with the focus on their potential for developing global civil society and how they can contribute.
The participating representatives of parliaments, governments, international organizations, NGOs, local and regional authorities and the scientific community had the opportunity to hold in-depth exchanges on the development opportunities provided by diasporas and migrants. They also explored the role of different stakeholders, to foster the role of parliamentarians and diaspora associations and to ensure their active involvement in, and contribution to, this process. The members of the Network discussed the best practices enabling diaspora engagement, with a focus on the most successful projects implemented by diaspora members and associations.

MP Aleksandar Cotric stressed that the Republic of Serbia has a large and organized diaspora successfully integrated in the societies of its chosen home country, but maintaining its identity and close ties with the mother state. "The Constitution and laws provide the legal framework necessary to keep advancing the cooperation between the Serbian institutions and the Serbian people living in the region and abroad so as to ensure their inclusion in the political, social and economic lives of the countries they live in and to advance overall cooperation with their country of origin to better exercise and protect their rights and preserve their national identity", stressed Cotric.

The discussion of the role of diasporas in the development of civil society resulted in very concrete and effective recommendations on how to develop strategic partnerships between states, international organizations, civil society and private sector, to create a framework for diaspora engagement to facilitate transfer of resources and knowledge sharing.


---
---