National Assembly of the Republic of Serbia / Activities / Activity details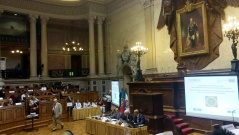 7 September 2017 Launch of the Parliamentary Network on Diaspora Policies
Wednesday, 13 September 2017
MP Cotric at Conference of Parliamentary Network on Diaspora Policies
Aleksandar Cotric, MP and member of the Committee on the Diaspora and Serbs in the Region, represented the National Assembly at the launch of the Parliamentary Network on Diaspora Policies on 7 and 8 September 2017, in Lisbon.
---
The international summit was organized by the Parliamentary Assembly of the Council of Europe and hosted by the Portuguese Parliament. The conference dedicated to migration and the diaspora was addressed by Eduardo Ferro Rodrigues, Speaker of the Portuguese Parliament, René Rouquet, Vice-President of the Parliamentary Assembly of the Council of Europe, and Tomas Bocek, Special Representative of the Secretary General of the Council of Europe on Migration and Refugees.

The conference, attended by representatives of national parliaments, international organizations and the non-governmental sector, covered several topics, including the contribution of diasporas to European societies, relations with countries of origin as well as relations with host countries. The speakers also addressed the issues of the diasporas' democratic participation, their impact on the development of countries of origin, promotion of intercultural dialogue and their role in building cohesive societies.

Aleksandar Cotric stressed that the Serbian diaspora is sizeable quoting that about four million Serbian nationals live abroad.

"Relations with the diaspora and Serbs in the region are very much in the National Assembly's focus of interest as evidenced by its legislative initiatives, support of budgetary funding, organization of public hearings, conferences and exhibitions, meeting of the Committee on the Diaspora and Serbs in the Region with representatives of the diaspora, participation in events organized by the diaspora and fellow nationals in the region, as well as other activities which help protect the rights and interests of Serbian citizens and Serbs living outside of the country", said MP Aleksandar Cotric in Lisbon.

In conclusion, the members of the parliaments of European and Mediterranean states issued a final statement agreeing to focus the activities of the parliamentary network on promoting democratic participation, political cooperation between countries of origin and host countries and strengthening dialogue between members of the network and diaspora associations.


---
---
Sunday, 19 August
No announcements for selected date