National Assembly of the Republic of Serbia / Activities / Activity details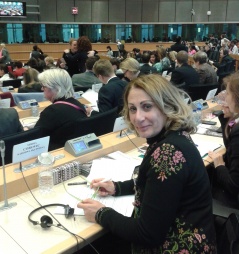 3 March 2016 MP Aida Corovic at the inter-parliamentary committee meeting in Brussels
Friday, 4 March 2016
MP Aida Corovic at European Parliament Inter-Parliamentary Committee Meeting in Brussels
MP Aida Corovic, member of the National Assembly's Committee on Human and Minority Rights and Gender Equality, took part in the inter-parliamentary committee meeting in Brussels, on 3 March 2016, with the topic "Women refugees and asylum seekers in the EU".
---
The meeting was organised by the European Parliament's Committee on Women's Rights and Gender Equality on the occasion of International Women's Day. The goal of the meeting was to draw attention to the plight of women refugees and asylum seekers who are in an especially vulnerable position. The parliamentarians were presented the latest UNICEF data according to which, since the beginning of the migrant crisis, the numbers of women and children are becoming considerably higher than the number of men – about 60% since the beginning of 2016, compared to last year's 20%. The meeting focused on the problems women refugees and asylum seekers face in their countries of origin such as violence and forced marriages, and the problems they encounter on the migrant routes such as smuggling and trafficking in women, as well as healthcare-related issues since there are many pregnant women among them. Once they reach the destination country these women face new challenges, primarily integration, re-connection with the family and employment.
The meeting included three workshops, which were followed by a common debate in which the representatives of the EU member and candidate states shared data from their respective countries. MP Aida Corovic said that she did not believe it was enough to talk about the position of women refugees today, rather, this should be a key topic in the coming period, not only in the European Parliament, but in other institutions as well, and calls for concrete measures. She asked if it was possible to talk about the position of women refugees from Syria, Iraq and other countries and not have a single one of them in attendance to share her personal experiences.
The meeting ended with the conclusion that all the representatives of the various institutions have their responsibilities and no one should turn their back to the situation, and that the problems should be called by their real name. The participants agreed that the only sure way to stop the migrations is to stop the conflicts and women should be more included in the peace processes. The question of women refugees and asylum seekers needs to be discussed in the European Parliament and the coming summit of the European Union and Turkey.
---
---
friday, 28 january
13.00 - meeting of the Inter-Party Dialogue Control Body (National Assembly House, 13 Nikola Pasic Square, hall 1)

17.00 - National Assembly Speaker Ivica Dacic meets with Inter-Party Dialogue co-facilitators (National Assembly House, 13 Nikola Pasic Square, hall 1)