National Assembly of the Republic of Serbia / Activities / Activity details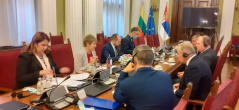 8 September 2021 The Chairperson and members of the European Integration Committee in meeting with the Lithuanian parliamentary delegation
Wednesday, 8 September 2021
Lithuania Supports Serbia's European Integration Process
The Chairperson and members of the European Integration Committee met with the delegation of the Lithuanian Parliament's Group for Inter-Parliamentary Relations with the Western Balkan Countries at the National Assembly House.
---
Committee Chairperson Elvira Kovacs stressed that European integration remains Serbia's priority foreign policy goal as evidenced, she pointed out, by the ongoing reforms, the most significant among them being the amendment to the Constitution of the Republic of Serbia in the field of the judiciary, as well as the initiation of the Inter-Party Dialogue aided by the European Parliament. After the delay in the opening of negotiation chapters, Kovacs said that she hoped that the new methodology help speed up the opening of new clusters. She believes that this would significantly boost the citizens' trust in the process itself.
Speaking of the Committee's activities, she said that it has been working very efficiently from the start and its members have participated in numerous conferences and meetings organised by European Union institutions, primarily the European Parliament, as well as conferences organised by the parliaments of the countries presiding over the European Union Council. The European Integration Committee meets regularly to discuss bills from the aspect of their harmonisation with EU regulations. The Committee also participates in the procedure of adopting Negotiating Position Proposals for individual negotiating chapters, which, before being adopted by the Government, have to be considered and adopted by the National Assembly.
Audronius Azubalis, member of the delegation and deputy head of the Group for Inter-Parliamentary Relations with the Western Balkan Countries, was very interested in Serbia's EU accession process, stressing that he believed there could be no successful enlargement in the East without successful enlargement on the Balkans.
European Integration Committee Deputy Chairperson Dusica Stojkovic thanked Lithuania for the support it provides to Serbia, stressing that the country's experience can be extremely important for Serbia's European path. She highlighted the importance of the signing the Brussels Agreement, as well as regional initiatives that would contribute to the implementation of European values in Serbia.
Committee member Nemanja Joksimovic commented on the importance of Chapter 35, which is not simple for Serbia in the least, reminding the guests that the Republic of Serbia has not recognised the unilaterally declared so-called the state of Kosovo. He believes that Chapter 35 is crucial for Serbia's European prospects. He also stressed that Pristina had previously worked to degrade the negotiations with Belgrade, even though Serbia wanted to find a compromise solution.
In the course of the meeting, the officials talked about the military cooperation between the Republic of Serbia and the Russian Federation, as well as the importance of deepening the interparliamentary cooperation between Lithuania and Serbia, both at the level of committees and through multilateral cooperation.
---
---
monday, 25 october
9.00 - sitting of the Committee on the Economy, Regional Development, Trade, Tourism and Energy (National Assembly House, 13 Nikola Pasic Square, hall 2)

9.00 - sitting of the Agriculture, Forestry and Water Management Committee (National Assembly House, 13 Nikola Pasic Square, hall 4)

10.00 - sitting of the Committee on Finance, State Budget and Control of Public Spending (National Assembly House, 13 Nikola Pasic Square, Small Hall)

13.00 - sitting of the Committee on Constitutional and Legislative Issues (National Assembly House, 13 Nikola Pasic Square, hall 1)