National Assembly of the Republic of Serbia / Activities / Activity details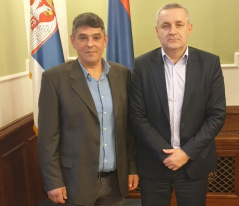 28 December 2018 The Chairman of the Committee on the Diaspora and Serbs in the Region Miodrag Linta and the President of the Alliance of Serbs in Italy Dusan Aleksic
Friday, 28 December 2018
Linta Talks to President of Alliance of Serbs in Italy
Miodrag Linta, Chairman of the Committee on the Diaspora and Serbs in the Region, met with Dusan Aleksic, President of the Alliance of Serbs in Italy.
---
Aleksic informed the Committee Chairman that the Alliance was established in Trieste in 2015 in the hall of the orthodox church of St. Spiridon the Miracle-Worker with which it enjoys excellent cooperation. He said that the Alliance comprises 13 organizations all aiming to preserve the national identity of Serbs in the diaspora, the Serbian language, Cyrillic script, folklore and customs. He said that the Alliance also does humanitarian work e.g. prepares meals for the people in Kosovo-Metohija. Aleksic said that the Alliance is collecting signatures for a petition to launch a talk against the independence of Kosovo-Metohija in the Italian Parliament since it never actually discussed the issue. He said that the Alliance is also in contact with the Office for Cooperation with the Diaspora in Belgrade but in the competition for funds it failed to win sufficient resources, and went on to comment that the ties with the mother country should be firmer.
Linta said he was aware that some associations and alliances are less than satisfied with the annual allocations of the Office for Cooperation with the Diaspora. He said he would be sending a report to the Ministry of Foreign Affairs concerning the fortification of ties with Serbs in the diaspora and region with a recommendation that when in official visit the governmental representatives meet with the associations and alliances of Serbs in the country they are visiting. He said it would also be good if our diplomatic and consular services active in the region and the diaspora organize annual meetings to which they would invite representatives and notable members of the Serbian community.
---
---
thursday, 20 june
10.00 - continuation of the 24th Special Sitting of the National Assembly of the Republic of Serbia, 11th Legislature (National Assembly House, 13 Nikola Pasic Square)

11.00 - sitting of the European Integration Committee (National Assembly House, 13 Nikola Pasic Square, hall 3)

11.30 - press conference of MP Tatjana Macura (National Assembly House, 13 Nikola Pasic Square, Central Hall)

12.00 - sitting of the Committee on Administrative, Budgetary, Mandate and Immunity Issues (National Assembly House, 13 Nikola Pasic Square, hall 3)

13.00 - press conference of National Assembly Deputy Speaker Djordje Milicevic (National Assembly House, 13 Nikola Pasic Square, Central Hall)

14.00 - sitting of the Foreign Affairs Committee (National Assembly House, 13 Nikola Pasic Square, hall 4)