National Assembly of the Republic of Serbia / Activities / Activity details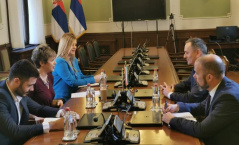 22 March 2023 The participants of the meeting
Wednesday, 22 March 2023
Kovacs Meets with Newly-Appointed Hungarian Ambassador to Serbia
National Assembly Deputy Speaker Elvira Kovacs received the newly-appointed Hungarian Ambassador to Serbia H.E. Jozsef Magyar, today in the National Assembly, and on the occasion declared the relations between Hungary and Serbia to have reached a historically high.
---
Kovacs and Magyar opined that parliamentary diplomacy is of great importance in the specific circumstances Europe currently finds itself in, and that regular contacts and exchange of opinions between parliamentarians, as elected representatives of citizens, concerning regional and European issues are very important.
They agreed that Hungary and Serbia enjoy an intensive and well-developed interparliamentary cooperation, expressing the expectation that, based on the signed strategic cooperation document, it would be further improved, both at the level of parliament speakers and committee level, as well as within international parliamentary organisations and initiatives.
Elvira Kovacs pointed out that EU membership is Serbia's a strategic goal and that the majority of MPs are pro-European, but that it is necessary to win back the citizens' support for European integration, since the process is taking a long time and no new negotiation clusters have been opened in the previous period. Serbia needs to receive a positive signal from the EU, she said, expressing hope that relations between Belgrade and Pristina would normalize soon, which would speed up the country's European integration.
Jozsef Magyar drew attention to the need for changes within the EU itself, both due to external circumstances and the need to create a vision and plans for a better and more efficient functioning of its institutions and for a better standard of living for its citizens. He said that Serbia and Hungary are very important European countries, however, the work of European institutions and the decision-making process in the EU is politicised, as is the process of European integration itself, which is not always just about evaluating institutional reforms and the alignment of domestic legislation with European legislation.
In the course of the meeting, Kovacs and Magyar pointed out the importance of cooperation in the field of economy and energy between the two countries, as well as the possibilities for better infrastructure connections, through the expansion of border crossings and the construction of a high-speed railway from Budapest to Belgrade and Nis.
---
---