National Assembly of the Republic of Serbia / Activities / Activity details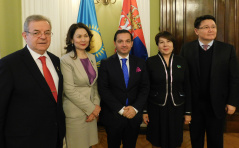 1 March 2019 MPs and the Kazakh parliamentary delegation
Friday, 1 March 2019
Kazakhstan's Stance on Kosovo-Metohija Grounded in UN Principles
"Kazakhstan's stance on Kosovo-Metohija is grounded in UN principles and respect for a state's territorial integrity and sovereignty within its internationally recognized borders. We are ready to support any opinion the two sides can reach an agreement on", said Gulzhan Karagusova, Chairperson of the Kazakh Parliament's Budget and Finance Committee, in her meeting with National Assembly Deputy Speaker Prof. Dr Vladimir Marinkovic.
---
She said that her country would like to intensify cooperation with Serbia, especially in view of the many signed and ratified agreements, among them the free trade agreement. Karagusova said that Kazakhstan is especially interested in developing cooperation in the fields of energy production and the processing industry.
She also took the opportunity to convey the Kazakh Parliament Speaker's official invitation to the National Assembly Speaker to the 4th Meeting of Speakers Eurasian Countries' Parliaments to be held in September in Astana and attended by over 80 participating countries.
National Assembly Deputy Speaker Prof. Dr Vladimir Marinkovic opined that the two countries' traditionally friendly relations could be advanced through political dialogue at the highest level.
The National Assembly Speaker's visit to Kazakhstan and the work of the PFG with Kazakhstan, one of the largest in the Serbian Assembly, which testifies to the MPs' wish to cooperate and advance relations with the two countries, have given an special boost to the overall parliamentary cooperation.
Marinkovic opined that there is ample opportunity for cooperation especially economic cooperation since both countries potential are underutilized in that respect.
"We are grateful to Kazakhstan for its principled support of Serbia's sovereignty and territorial integrity, for respecting UNSC Resolution 1244 and voting against so-called Kosovo's attempt to join UNESCO. Our approach is one of constructive dialogue, while the other side attempts to block that process", said Marinkovic.

He asked the Kazakh parliamentarians to consider their position on so-called Kosovo's possible application for INTERPOL, restating that Serbia is dedicated to maintaining stability and security in the region because it contributes to the security of Europe at large. He also voiced some concern about Pristina's radicalization of relations at the detriment of dialogue by establishing the so-called Kosovo Army and imposing a 100% customs tax on Serbian merchandise, which was a big blow to the Serbs in Kosovo-Metohija as well as to Serbia's economy and damaged the continuation of the dialogue.
The meeting was also attended by Anar Zhailganova, member of the Kazakh Parliament's Budget and Finance Committee, and Dragomir Karic, member of the PFG with Kazakhstan.


---
---
wednesday, 15 july
13.00 - press conference of MPs Sasa Radulovic, Branka Stamenkovic and Vojin Biljic (National Assembly House, 13 Nikola Pasic Square, Central Hall)