National Assembly of the Republic of Serbia / Activities / Activity details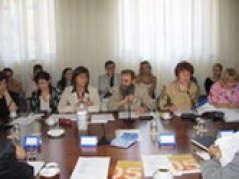 Thursday, 6 July 2006
Joint Sitting of the Committee on Labour, Ex-Servicemen's and Social Issues and the Poverty Reduction Committee
The Committee on Labour, Ex-Servicemen's and Social Issues and the Poverty Reduction Committee held a joint sitting on 5 July.
---
The Committee on Labour, Ex-Servicemen's and Social Issues and the Poverty Reduction Committee held a joint sitting on 5 July. The sitting, devoted to discussing the position of refugees and internally displaced persons in Serbia, was chaired by Snezana Stojanovic-Plavsic and Ivana Kovacevic.
Welcoming the participants, National Assembly Chairman Predrag Markovic expressed his support for such projects and reiterated that introduction of standards needed to be balanced with region-specific issues. He emphasised that '[Serbia was] building a new nation' and that '[Serbia needed] to protect segments of society jeopardised by the break-up of the former nation at the same time as building a new nation'
Mr Markovic went on to add: 'Integrating people who came to Serbia as refugees and displaced persons into reform processes gives Serbia a new quality. On the other hand, this segment of the population needs to be provided with opportunities to compete equitably, and thereby protect the minimum of their human rights'.
Officials of the Office of the Commissioner for Refugees, the Ministry of Education and Sports, the Co-Ordination Centre for Kosovo and Metohia, the Vojvodina Executive Council, UNHCR, OSCE, the Humanitarian Centre for Integration and Tolerance, PRAXIS, an organisation providing free legal assistance to refugees and internally displaced persons, the Association of Serbs from Croatia, the Serbian Refugee Council, the Pravda Communication Centre, and the 'Right Answer' Serbian Democratic Forum.
The sitting heard that Serbia had Europe's largest number of refugees. About 107,000 people have the status of refugees, while there are 208,391 internally displaced persons. Some 18,000 people from Kosovo and Metohia live in Montenegro; Kosovo is home to between 16 and 20,000 internally displaced persons. Other issues include the fact that a number of refugees have lost their status, and the position of displaced persons in Montenegro after its declaration of independence. The Commissioner for Refugees, Dragos Dabetic, said that internally displaced persons were not only ethnic Serbs, but belonged to as many as 31 different ethnic communities.
The sitting raised a number of questions relating to the exercise of refugees' and displaced persons' rights, including difficult access to personal documents, employment, access to social services, absence of an asylum system, etc. Special attention was devoted to refugee and displaced persons' integration and return programmes, citizenship programmes, and housing and income projects. Another pressing issue was the inability of some people, especially refugees from Croatia, to get access to housing. Differing opinions were presented on provisions of the draft Refugee Bill; the sitting agreed that broader inclusion of the media and the general public was necessary to solve the problem.
---
Committees related to this activity
---
---
saturday, 13 august
No announcements for selected date