National Assembly of the Republic of Serbia / National Assembly / Composition / Members of Parliament / MP
MP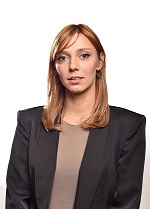 Photo gallery
JELENA
BOGDANOVIC
Electoral List
Dr MILOS JOVANOVIC – HOPE FOR SERBIA – Serbia Coalition HOPE – National Democratic Alternative – Democratic Party of Serbia (DSS) – For the Kingdom of Serbia (MONARCHISTS) – Vojislav Mihailovic
Date of Verification of MP's Mandate
01.08.2022.
Year of Birth
1988.
Occupation
Bachelor of Applied Science in Economics
Membership in other working bodies and delegations
Stabilisation and Association Parliamentary Committee (deputy member)
Residence
Belgrade, Rakovica
Parliamentary Constituency Office
Savski trg 9, Belgrade (Savski venac)
064-6709-266
Jovana Vorkapic
every workday from 9am to 5pm
MP's term of office terminated before the expiry of the term they were elected for.
friday, 8 december
No announcements for selected date