National Assembly of the Republic of Serbia / Activities / Activity details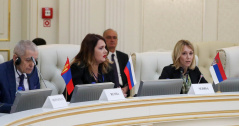 30 April 2019 Stefana Miladinovic and Dusica Stojkovic at 2nd International Conference of the OSCE PA Silk Road Support Group
Tuesday, 30 April 2019
Interparliamentary Support for One Belt One Road Initiative
MPs Stefana Miladinovic and Dusica Stojkovic, members of the NARS delegation to OSCE PA, took part in the 2nd International Conference of the OSCE PA Silk Road Support Group, held on 29-30 April in Minsk, Belarus.
---
The conference, with the topic "Belt and Road: strengthening cooperation for sustainable development and prosperity" was attended by parliamentarians of the OSCE PA Silk Road Support Group members from 10 countries.
The event had four panels, one of which focused on the Belt and Road Initiative as a factor of economic growth and its impact on investment attractiveness, as well as the challenges if is faced with and development trends. The Head of the National Assembly's delegation to OSCE PA Stefana Miladinovic stressed that the Belt and Road is a visionary initiative whose win-win cooperation tactic opens new doors to prosperity of all the participants, based on a multilateral approach to the world.
"The Belt and Road concept is a strategic project focused on economic cooperation to the benefit of all involved. From the very onset, when it was launched in 2013, Serbia has supported and continues to support the realization of the initiative", said Stefana Miladinovic.
She went on to speak about the many projects completed, ongoing and yet to be realized under the auspices of the One Belt One Road.
She mentioned the Zemun-Borca bridge project, the modernization and reconstruction of the Hungary-Serbia railway, Memorandum of Understanding and Cooperation on the Corridor 10 Belgrade-Nis-Presevo-North Macedonia reconstruction projects, as well as the Agreement on the Construction of the Industrial Park of Friendship in Borca.
Stefana Miladinovic also spoke about the last summit in Dubrovnik and last week's 2nd One Belt One Road Forum in Beijing.
According to Stefana Miladinovic, the One Belt One Road Initiative is vital for global economic and social trends and testifies to the inevitability of global integration processes.
On the second day of the Conference the participants visited the Chinese-Belarusian industrial park "Great Stone", the biggest foreign investment in Belarus and an important symbol of cooperation between Beijing and Minsk under the auspices of the One Belt One Road project.


---
---
saturday, 4 april
No announcements for selected date