National Assembly of the Republic of Serbia / Activities / Activity details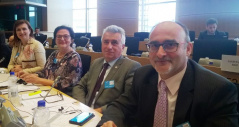 12 July 2018 The National Assembly delegation at the interparliamentary conference
Thursday, 12 July 2018
Interparliamentary Conference on "EU Fund Management: EP Budget Control Authorities"
A delegation of the National Assembly comprising Dubravka Filipovski, Foreign Affairs Committee Deputy Chairperson and European Integration Committee deputy member, Gordana Comic, European Integration Committee member, Milorad Mijatovic and Zoltan Pek, members of the Committee on Finance, State Budget and Control of Public Spending, is taking part in the interparliamentary conference on "EU Fund Management: EP Budget Control Authorities" at the European Parliament in Brussels, 11-12 July 2018.
---
The interparliamentary conference organized by the European Parliament is intended for the members of the parliaments of the Western Balkans and Turkey, with the participation of MEPs and experts in the field. The conference is also attended by members of the national parliaments of EU member states.
The participants are discussing the implementation of the EU budget and the role of the European Parliament in passing the long-term EU budget, as well as the parliamentary control of its implementation, with a special focus on the part of the budget intended for financial support programmes for EU candidate countries and advancing the transparency of IPA funds.
Speaking of budget control in Serbia, Dubravka Filipovski said that the procedure involves internal and external budget implementation controls conducted by the Ministry of Finance and the State Audit Institution. Filipovski emphasized the importance of the financial support programmes for the Western Balkans, hoping the funds allocated for the purpose would be increased in the coming budget period.
Gordana Comic said that the entire Western Balkan region should work together to achieve stability and attract more IPA pre-accession funds.
The conference was headed by Ingeborg Grassle, Chair of the European Parliament's Committee on Budgetary Control, and the participants also attended a session of the Committee dedicated to cooperation with the Office of the European Public Prosecutor and OLAF efficiency.


---
---
friday, 28 january
13.00 - meeting of the Inter-Party Dialogue Control Body (National Assembly House, 13 Nikola Pasic Square, hall 1)

17.00 - National Assembly Speaker Ivica Dacic meets with Inter-Party Dialogue co-facilitators (National Assembly House, 13 Nikola Pasic Square, hall 1)