National Assembly of the Republic of Serbia / Activities / Activity details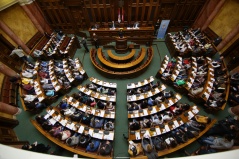 11 February 2014 International Safer Internet Day
Tuesday, 11 February 2014
International Safer Internet Day
More than 120 seniors from 19 Serbian elementary schools attended the celebration of International Safer Internet Day at the National Assembly House.
---
The topic of this year's event was "Let's create a better Internet together".
Deputy Secretary General Radoslav Vujovic greeted the participants saying that the National Assembly would continue to support the institutions and individuals invested in exposing young people to true values so that they might find their rightful place in the social system and contribute to the development of our society.
State Secretary at the Ministry of Foreign and Internal Trade and Telecommunications Tatjana Matic said that over 10 million participants and more than 10,000 schools all over the world supported the Safer Internet Day event last year.
The Head of the High Tech Crimes Investigation Department at the Serbian Ministry of Interior Sasa Zivanovic handed out timetables containing 10 rules for safe use of the Internet to the students, telling them to copy the rules and post them on their Internet profiles.

---
---
| M | T | W | T | F | S | S |
| --- | --- | --- | --- | --- | --- | --- |
| 27 | 28 | 29 | 30 | 31 | 1 | 2 |
| 3 | 4 | 5 | 6 | 7 | 8 | 9 |
| 10 | 11 | 12 | 13 | 14 | 15 | 16 |
| 17 | 18 | 19 | 20 | 21 | 22 | 23 |
| 24 | 25 | 26 | 27 | 28 | 29 | 30 |
| 31 | 1 | 2 | 3 | 4 | 5 | 6 |
thursday, 6 august
No announcements for selected date