National Assembly of the Republic of Serbia / Activities / Activity details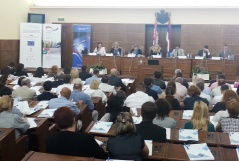 16 June 2015 Participants of the international conference on Civil Society Role in Agriculture and Rural Development Policies
Tuesday, 16 June 2015
International Conference on Civil Society Role in Agriculture and Rural Development Policies
The international conference on "Civil Society Role in Agriculture and Rural Development Policies" is the closing event of project "Civil Society Support to Public Administration in IPA Rural Development II with Focus on Measure 202".
---
Opening the gathering, the Chairperson of the Committee on the Economy, Regional Development, Trade, Tourism and Energy Dr Aleksandra Tomic greeted the participants on the behalf of the National Assembly, stressing that the National Assembly was the place where the public, private and civil sector should meet and connect, and adding that establishing good ties and organisation between all participating in the cooperation, will be a future imperative.

In the opening remarks with the topic: How can civil society and public administration effectively collaborate to contribute to the performance/capacities/impact of IPARD and national agriculture and rural development policies, the participants were addressed by European Integration Committee Chairman Aleksandar Senic who emphasised the need to talk more about the importance of IPARD funds. Senic stressed that the cooperation between the European Integration Committee and the civil society has been one of the most important aspects of its operation ever since the Committee was established in 2003,and concluded that holding sittings outside of the National Assembly headquarters and organising public hearings are essential for strengthening cooperation with the civil sector.

The participants were also addressed by Acting Director of the EU Integrations Office of the Government of the Republic of Serbia Ksenija Milenkovic, Chief Negotiator for the accession negotiations with the EU Tanja Miscevic, Richard Masa on the behalf of the EU Delegation to Serbia and H.E. Heinz Wilhelm, German Ambassador to Serbia.

The conference was attended by a great many representatives of civil society from the fields of agriculture and rural development, associations of producers, farming households, local action groups, representatives of local and regional administrations, consulting companies and the financial sector.


---
---
friday, 18 september
No announcements for selected date